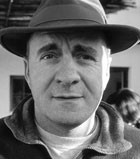 Garth Walker.
Garth Walker became a graphic designer long before it was fashionable to be a graphic designer in South Africa. In the 1970s he trained as graphic designer and photographer at Technikon Natal. In 1995 he founded Orange Juice Design, which soon became one of the country's leading graphic design studios. In 2008 Walker decided to go it alone and started Mister Walker Designs. Mister Walker's clients include some of South Africa's favourite consumer and corporate brands. Walker is dedicated to developing a design language in Africa. For the past 15 years he has also  been publishing Africa's only experimental graphics magazine, i-jusi.
1. If you were sent to prison, what would be your crime? For murder. A client probably.
2. Do you know where your personal and/or creative boundaries lie? Hopefully, at age 53. But boundaries have to be reached first...
3. What is your favourite term of abuse or your favourite expletive? The industry standard... "F-U-C-K".
4. What items would you put into a time capsule? Only things I own. So... A Leica M3 camera to record time, my 1968 Porsche 911S to drive the skyways, early 1980s Vitus 979 roadbike with Campagnolo Record groupset to ride the heavens and Alan Fletcher's The Art of Looking Sideways to read on the journey.
5. If you were told that you had to live inside a work of art, which would you choose? An English country cottage (must be at least 300 years old) - low art. Any Henry Moore sculpture – high art.
6. Have you ever seen insanity where you later saw creativity? Every day (well, nearly).
7. What's something you know you do differently to most people? I design everything while riding my bike (road or mountain bike). And always start designing with no scamps or "drawing anything". By then it's all in my head already.
8. What one thing that you have not done would you really like to do? Have a dinner party with the 10 people I'd like to cook for – and converse with.
9. Who in the world would you most like to have a drink with? Too many, but Diane Arbus (the photographer) for starters.
10. What do you do on Sundays? Ride my mountain bike at Giba Gorge (or mountain bike race elsewhere) then home to make cheese puffs for my girls, then (usually in the afternoon) a few hours of street photography on the beachfront.
11. Do you have a creative or business muse? I only wish I had!
12. What's your most marked characteristic? Staying power.
13. What is your present state of mind? Would like to do something else for a while.
14. What is the purpose of design? So we designers don't have to work in a bank.
15. Can designers save the world? No. At best a teeny weeny dent somewhere on the ankle.
16. Has design ever disappointed you? Only designers disappoint.
17. Do you recycle? Yes. Particularly design ideas.
18. What did you want to "be" when you were growing up? Anything that didn't require me to have an "A-Stream" matric.
19. What is the key to a successful design business? You are better at business than you are at design.
20. What's you favourite gadget? I'm not at all a gadget guy - but I do have an addiction to wristwatches and (film) cameras.