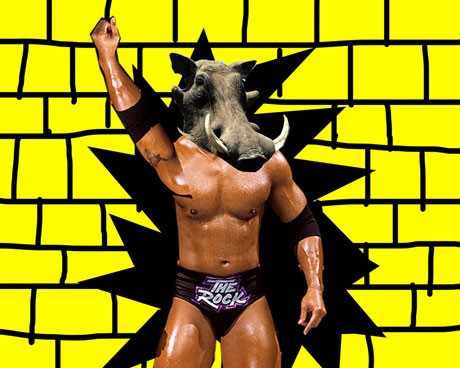 Cameron Platter.
Cameron Platter trained as painter at the Michaelis School of Fine Art but works in a variety of mediums today. His work interprets modern life in urban Africa, while also documenting contemporary morality through simple story telling. Platter's work mixes new and traditional mediums to create interactive installations reminiscent of sex, irony, cynicism and, sometimes, love.
1. How old were you when you made your first design and what was it? I was 5 when I made a stuffed stocking sculpture of a penis and balls. I called it "Mrs Balls".
2. What is the opposite of design? A beautiful landscape filled with rainbows, a river of wine, money everywhere, 20 virgins, a BBQ pit and butterflies in the air.
3. What is your secret obsession? Wearing my red pleather thigh-high, high-heeled boots around the house, in a sequined dress.
4. Do you recycle? I throw my empties out of the left side of the window, my organics to the right and I burn my plastic in a bin in my lounge.
5. What does "inspiration" mean to you? When I tell people I'm an artist, they're like: "That's so cool. You just sit around all day waiting for 'inspiration'…"
6. Do you have a creative muse? T & A and John Muafangejo.
7. How do you know when a design is complete? If you think it's finished, it isn't.
8. Does design feed people? If it involves foie gras.
9. What's the best design advice you've ever received? 100 push-ups in the morning.
10. What is your most treasured possession? My Cecil Skotnes's.
11. What is your greatest achievement to date? Being in MoMA's (Museum of Modern Art, New York) collection.
12. Have you ever seen insanity where you later saw creativity? Every morning.
13. Is it better to work for love or money? If I knew how to work for money, I'd be super rich. Unfortunately/fortunately it's all for the love with me.
14. What does water taste like? I heard a plumber once call the sound of an unblocked toilet flushing again, "like a beautiful woman". But I suppose water tastes like whatever the company selling it wants it to taste like. Coca-Cola describes its water as "the sweetest-tasting water". Pathetic.
15. What is the one thing you would most like to change about the world? No disease, poverty, violence, death, taxes or mosquitoes.
16. What do you regard as the lowest depth of misery? Politicians.
17. If not design, what would you do? Politics, or the owner of an exclusive escort service.
18. Should designers be saving the world? No.
19. Has design ever disappointed you? Every day.
20. Which person, living or dead, would you most like to have a drink with? With my two month-old daughter, Lily Rose, suddenly transported to age 20, sharing a great bottle of champagne.