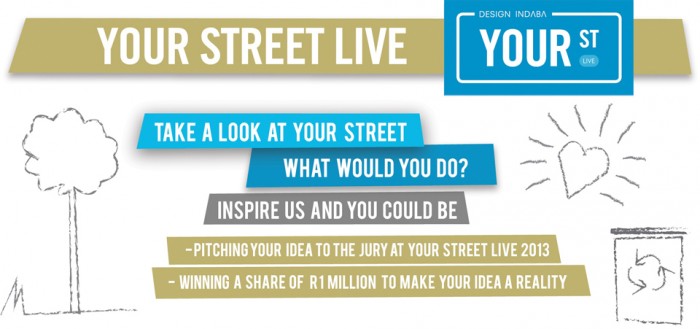 If the number of spectacular Your Street Live entries we received is anything to go by then one thing is certain – on the street is where it's all happening.
A big thank you to all who entered - your enthusiasm and commitment to improving your community, in whichever way, is both inspiring and infectious.
The task that awaits the Your Street jury is an unenviable one – choosing the winners won't be easy, but they'll ensure that the R1 million really does go towards owning, loving and improving the streets.
While the entries for Your Street Live has now officially closed, the best part is yet to come.
Your Street Live takes to the stage as the opening event of Design Indaba 2013, happening on Wednesday 27 February 2013 at the Cape Town International Convention Centre. Tickets are R30 each and available at the door on the evening.
You're invited to join us for an evening of inspiration and entertainment - all geared at looking at how design, creativity and innovation can be harnessed to positively affect the way countless people experience working, living or playing on their street or in their community.
We look forward to seeing you there!
For more information, please contact Nicole Chowles on +27 21 465 9966 or at nicole@interactiveafrica.com.