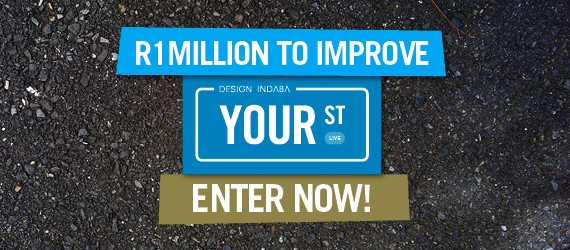 It's the beginning of a new year, and what better time to put your creativity to good use.
And what better initiative to apply your inspired thinking to than the Your Street Live Challenge?
The good news is that you still have time to enter – 10 days to be exact.
So with just 10 days left to enter the Your Street Live Challenge we thought we'd give you 10 reasons why you should put pen to paper, allow your creative genius to come to the fore, and enter now!
Here are 10 days reasons, for 10 days, on why you need to enter the continent's biggest creative competition:
10) Make a tangible difference on the street, where it can positively affect millions of people.
9) Great networking opportunities with individuals like yourself, who believe in the transformative power of creativity.
8) Design a better world, one street at a time.
7) Join in a global movement – the Your Street Challenge is taking cities around the world by storm, street by street.
6) Leave a legacy, a creative one. What better way to do this than by creating something that improves urban life for countless numbers of people?
5) Less talking, more doing – leave the talking to the bureaucrats and get your hands dirty. We're always amazed at what results from simply getting down to business.
4) Have fun! Because if you're not having fun, what's the point? And what could be more fun than making a positive social difference?
3) International recognition – because Your Street is a global phenomenon, your winning idea has a good chance of being recognised in urban spaces the world over.
2) Uplift your community – because doing something for the greater good will have positive knock-on effects for generations to come.
1) Share in R1 million – Design Indaba believes in putting its money where its mouth is, and where it matters most.
What are you waiting for? Visit yourstreetchallenge.org for more details. We're looking forward to seeing your inspired urban idea!