When you want to turn flooding into an opportunity, turn to Global Graduate Ratchu Vaan Surajaras. This Thai designer received his Master of Landscape Architecture degree from the Rhode Island School of Design (RISD) in the US in 2019 – but his thesis was not just of academic value.
Surajaras, who received his bachelor's degree from Kasetsart University in Bangkok in 2012, decided to identify a pressing problem in his former home city and solve it with a creative approach.
The result is a flood-mitigation project for Bangkok, a city uniquely vulnerable to flooding due to its location on low-lying land. Bangkok experiences severe flooding every several years, and sea-level rise due to global warming, along with the limitations of the water management system, compound the problem.
The Thai capital is rapidly being transformed from a water-based to a land-based city, but the use of Western irrigation systems is eroding the traditional Thai way of living close to and around water, in socially oriented communities.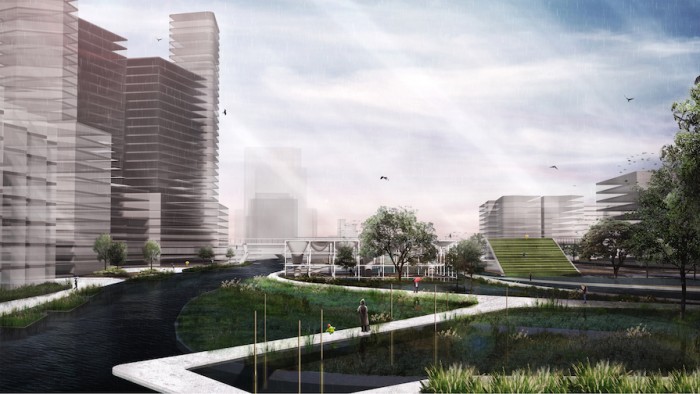 Surajaras, who works as a landscape designer in the Sausalito, California design firm SWA Group, has come up with a climate-adaptive solution that involves the 72km-long Saen Saep Canal, one of the city's main drainage arteries, which passes through 21 districts and is connected to more than 100 smaller canals.
His 'Recharging Bangkok' project strategically turns issues of flooding and land subsidence into opportunities, hybridising landscaping and engineering solutions to transform a single-purpose canal into multi-functional infrastructure. The linear and bounded corridor of the canal is therefore transformed into unbounded space.
By reimagining the relationship between the canal and adjacent open spaces as flood mitigation tools, Surajaras is reconnecting people with the canal-scape. Bangkok, the former Venice of the East, can once again embrace its close relationship to water.
Surajaras's ground-breaking thesis has garnered plaudits from RISD and merit awards from the American Society of Landscape Architects. In concentrating on this important environmental issue, the young Thai's penchant for innovation is making an entire city more sustainable.
Follow @vaan_ratchu on Instagram.
Ratchu Vaan Surajarasis one of the young global graduates selected to present at #DI2020. Design Indaba curates the selection of global graduates together with the heads of more than 40 design institutes and colleges (and beyond) around the world. The selection has been guided by the United Nations' Sustainable Development Goals. Each change-maker must demonstrate social or environmental impact, engagement with global challenges, project feasibility, and/or an exceptionally high level of innovation.
Tickets for the Design Indaba 2020 are available through www.webtickets.co.za.
For more information:
www.designindaba.com | Facebook – @designindaba | Twitter – @designindaba | Instagram @designindaba
About Design Indaba:
The globally acclaimed Design Indaba Conference was established in 1995 and has evolved into a multidisciplinary platform that champions the creative sectors. Its guiding principle is a Better World Through Creativity.