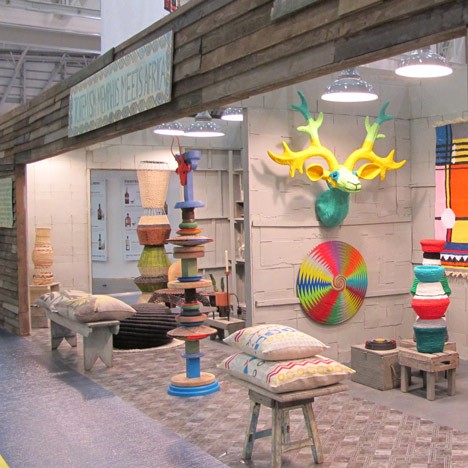 Dutch trend forecaster Li Edelkoort curated an exhibition drawing parallels between the Italian Memphis movement of the 1980s and contemporary South African design at Design Indaba Expo in Cape Town earlier this month.
Called Totemism: Memphis meets Africa, the show at the centre of the expo featured work by 53 South African designers across a range of disciplines.
Edelkoort proposes "a kinship between Memphis ideals and South African style, between shanty town colours and Italian kitchen laminates from that period."
She points to the use of tactile materials, colourful patterns, animal skins, fringes and neon common to both styles, as well as the tendency to layer and stack materials or colours to create totemic objects.
Decoration will take over objects, she says, especially colourful two-dimensional patterns with the illusion of three-dimensional qualities that create a sense of animation.
The exhibition was open from 1 to 3 March as part of Design Indaba, where the Petting Zoo app that we featured a couple of weeks ago was also launched. Another key show elsewhere in the city at the same time was the Heavy Metal exhibition we featured earlier today.
Edelkoort was one of the speakers at our Dezeen Live series of talks in London last September, where she predicted that nomadic lifestyles and increasing reliance on screens for information would make us crave tactility - watch the movie here.
Dezeen was in town as part of our Dezeen and MINI World Tour - watch ourmovie reports from Cape Town here, including the upcycling culture that's common in South African design and how being World Design Capital 2014 can help the city overcome problems inherited from the Apartheid regime.
Installation photos are by Riccardo Pugliese.
Here's some more information from Li Edelkoort:
---
There seems to be a kinship between Memphis ideas and South African style, between shantytown colours and Italian kitchen laminates from that period. The use of tactile matter, coloured patterns, wild animal skins, fringes and finishes, lightbulbs and neons are all reason to believe that we can expect a Memphis-inspired revival of inspiring magnitude.
A Memphis revival reflects a taste for bolder colours and is already influencing the most avant garde designers who create citations irreverently. The Italian master Ettore Sottsass would have agreed: Memphis, he said, "is everywhere and for everyone". Yet he also is known for saying that Memphis was "like a hard drug" and therefore one couldn't take too much of it!
The Memphis designers set themselves free with colourful and patterned laminates, historical form, wild animal materials, printed glass, loud celluloid, neon tubes and metal plates finished with spangles and glitter. The movement coincided with the reign of disco dancing and pop icons like Grace Jones, who dressed and moved like Memphis in loud colour-blocked outfits – already making a major comeback in fashion today!
Since 1994, young South African designers and decorators set out to create an African style using contemporary elements mixed with folkloric and iconic aspects such as spears, zebra, wooden masks and stools. Bars, restaurants and early boutique hotels invented this first funky South African design language.
However that movement was quickly saturated and the design community turned to craft and textiles instead. These trends developed in a great outpour of rustic and organic style, including architecture, design and food, celebrating the well-being of South African life.
Now these long-lasting trends are gaining inspiration from fresh ideas working with colour, craft and pattern, liberating themselves in pretty much the same way that Memphis design movement first did in the 1980s. Yet what makes this neo-Memphis movement so African in feeling? The stacking and layering of colour and materials deliver a totemic quality to designs. As these objects illustrate, it's time to stack, store, build and construct new African totems, thus creating icons that are at the forefront of design. The world is looking to Africa to be inspired!
 Like slaves to the rhythm!
Totemism: Memphis meets Africa is an exhibition on show at Design Indaba Expo in Cape Town, March 1-3, 2013. Curated by Lidewij Edelkoort and produced with the support of Woolworths, Interactive Africa & Design Indaba Expo.