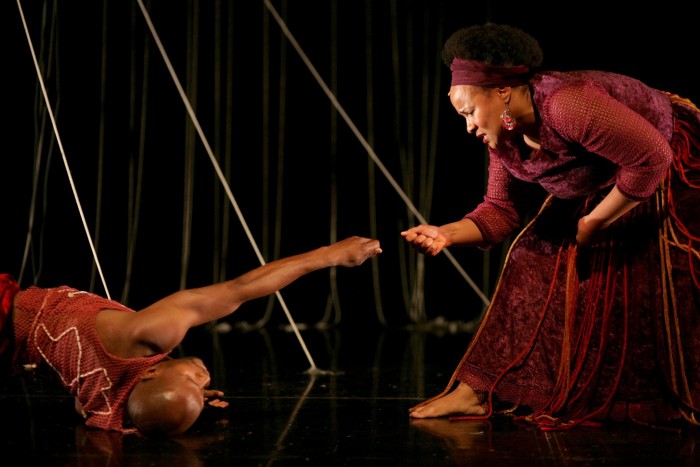 Award-winning poet, author, presenter, actor and producer Lebo Mashile returns to Design Indaba Conference as MC for the third time. The popular host, who is also a Design Indaba alumnus, was born in the USA to parents in exile, but returned to South Africa during the 1990s and has been contributing to the country's cultural landscape ever since. She completed a BA in international relations and law at Wits, but the arts exerted an irresistible pull.
The iconic actor has starred in the Academy-award nominated film Hotel Rwanda in 2004, as well as the stage adaptation of K. Sello Duiker's novel The Quiet Violence of Dreams and Ngyidansa, the stage adaptation of Pamela Nomvete's autobiography of the same name. She also collaborated with renowned choreographer and founder of Moving into Dance Mophathong, Sylvia Glasser, on Threads, a fusion of contemporary dance and poetry. She shot to national fame as the presenter and producer of the travel documentary series L'attitude (SABC1) and also presented Drawing the Line (SABC 2)and Great Expectations (eTV). For the past three years, she has been the voice of CNN's Inside Africa.
In 2018, she debuted an original theatrical piece entitled Venus vs Modernity: The Life of Saartjie Baartman at Design Indaba. This marked her first foray into penning a full-length theatrical production, and the performance sold out in both Johannesburg and Amsterdam. She is working in partnership with the Windybrow Theatre, one of South Africa's most enduring and reputable arts spaces, to tour this work both locally and internationally. She closed 2018 with her second TED Talk at TEDxEuston in London, and in 2019 performed at the University of Cologne in Germany, Palma Mallorca, and Barcelona in Spain.
Her lyrical and gutsy poetry has captivated audiences in 28 countries over the past two decades. She won a Noma Award for Publishing in Africa for her first poetry collection In a Ribbon of Rhythm (2005), which was also published in German by Wunderhorn. Her second book Flying Above the Sky was published in 2008. Her writing has been referenced in academic journals, has appeared in literary journals as well as mainstream publications, and is taught in high schools and tertiary institutions across South Africa. As a recording artist, Mashile has two studio albums under her belt, Lebo Mashile Live! (2006) and Moya (2017).