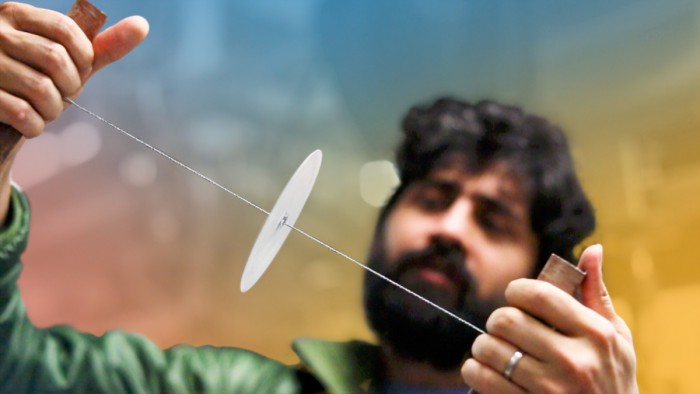 MacArthur Fellow Manu Prakash is no regular scientist. The physical biologist, who holds a BTech in computer science and engineering from the Indian Institute of Technology Kanpur, as well as a PhD in applied physics from the Massachusetts Institute of Technology, is probably best known for his extraordinary inventions, which make 'doing science' easier for people all over the globe.
Applying his expertise in soft-matter physics to illuminate easy-to-observe and hard-to-explain phenomena in biological and physical contexts, the Indian-born polymath is focused on coming up with solutions to problems that bedevil global health, science education and ecological surveillance.
He is keen to democratise the experience of science for all and is particularly driven to assist resource-poor communities. He is also passionate about the diverse life forms on our planet and how they function.
His team at Stanford University, where he works an Associate Professor in the Department of Bioengineering, is working on a 'water computer', built out of tiny air bubbles that travel in microfluidic channels, which can potentially be applied in diagnostics and environmental monitoring.
Prakash's projects range from explorations of how shorebirds drink, to how a few drops of food colouring can demonstrate highly complex behavior such as chemotaxis, akin to active living matter. His early training and research focused on ideas of physical computation, with a goal of building new computational engines capable of manipulating not just bits of information but also physical matter.
As an inventor, Prakash loves building devices that empower frugal science – low-cost, widely accessible and useful for field work. His Foldscope, a lightweight optical microscope that costs less than a dollar to produce, is assembled from an origami-based folding design from a single sheet of paper with integrated lenses and electronics.
Another recent project is a low-cost, sticker-like microfluidic chip that can collect thousands of nanoliter-volume droplets of saliva from mosquito bites that can be screened for pathogens.
Prakash is a member of the Stanford Biophysics Program in the School of Medicine and the Center for Innovation in Global Health and an affiliate member of the Woods Institute for the Environment. He holds numerous patents and his research has been published in scientific journals such as PLoS One, Journal of Experimental Biology, Science and Nature, among others.
Tickets for the Design Indaba 2020 are available through www.webtickets.co.za.
For more information:
www.designindaba.com | Facebook – @designindaba | Twitter – @designindaba | Instagram @designindaba