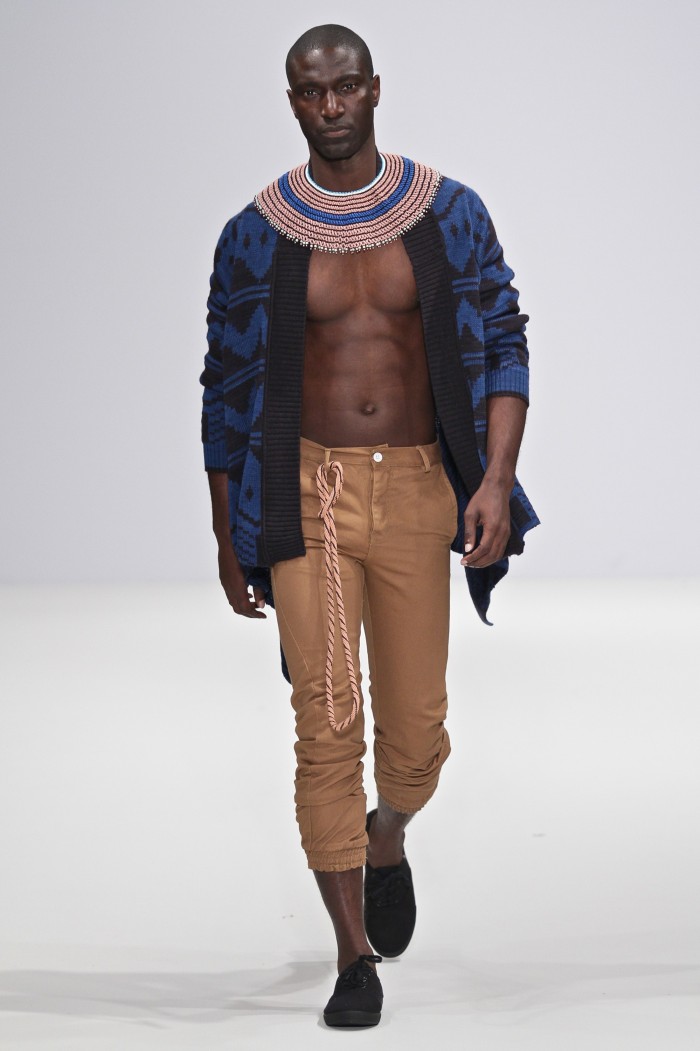 MaXhosa by Laduma.
Knitwear designer and Eastern Cape native Laduma Ngxokolo shot to prominence just three years ago when he launched his striking knitwear designs inspired by Xhosa patterns as an Emerging Creative at Design Indaba 2011. He epitomises what the Emerging Creatives platform is about: an opportunity to showcase the fresh talent that is rising up among the next generation of South African designers. We chat to him about his career trajectory.
You were almost an overnight sensation when you debuted your MaXhosa knitwear designs at Design Indaba Expo in 2011. What were some of the outcomes for you?
One of the best opportunities that came out of exhibiting at the Expo was that I got my designs stocked in Merchants on Long in Cape Town. It's played a big role in sustaining my product. I also met local and international buyers at the event and people like Li Edelkoort, who included me in her "Talking Textiles" exhibition in Milan in 2011. That's one of my biggest highlights I'm most proud of so far. Her appreciation of my work elevated my profile.
What have you been up to since?
I showed my designs at Joburg Fashion Week soon after participating at the Expo, and then again with Stiaan Louw and Heni Este-Hijzen at London Fashion Week 2011 as part of the Ubuntu project. Earlier this year, I was part of Labo Ethnik Fashion Weekend at Paris Fashion Week.
Tell us about how your product development has come along?
I've extended into other products, such as homeware. I met interior designers who recognised other possibilities for my work – so, for example, I have collaborated with Hinterveld on a range of blankets and I'm also making some cushions. Before the Design Indaba, I was only exposed to people in the fashion business.
Where to from here?
I'm off to do a Master's in Textile Futures at Central Saint Martins in London. The degree will expose me to an experimental approach to textiles. I'm continuing with my work though and would like to offer services to a broad clientele that includes fashion houses, textiles mills – even motor vehicle manufacturers. I want to be a lifestyle brand.
So can we expect you to come back home after your studies?
Yes – definitely!