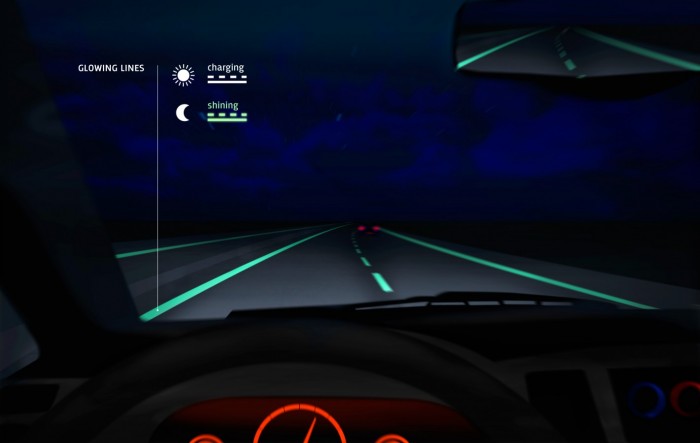 People are asking "Who killed the electric car?" but I really wish they would kill the electric road instead. Lighting highways at night can suck energy needlessly – especially if the roads are empty. And it doesn't have to be that way.
The recent Design Indaba Conference, held 27 February to 01 March 2013, was, as it always is, a three-day inspirathon where your brain sprints to some far-off place you never expected it to reach. Because I work for a paint brand, it seems obligatory to share a portion of the paradigm-shifting work of Daan Rosegaarde of Studio Rosegaarde, who is developing glow-in-the-dark road paint and other revolutionary concepts for use in road markings. Me poor wee noggin cells are still panting!
The sad irony, as Daan himself pointed out, is that this is not a new idea at all. He even admits that the company he is collaborating with, Heijmans Infrastructure, has had the idea in their archives for several years already. So why now? Because it's the right idea at a time when it has become wrong to be so wasteful with limited resources.
For many of Europe's capitals, it is becoming prohibitively expensive to pay to light highways at night. Enter Daan and his cost- and energy-efficient solution.
Dubbed "Smart Highway", it does away with streetlamps via road markings that glow in the dark, thanks to photo-luminescent paint that absorbs the sun's energy in the day and emits light at night for up to 10 hours. It also uses temperature-sensitive coatings to display snowflake symbols when the road surface is covered in dangerous, slippery black ice; has roadside lights that only activate when a car passes; and even allows electric cars to recharge while driving. Ingenious.
This really should have been done years ago, all around the world. It's disappointing that we don't have this in ZA, and instead we have Eskom. But what we do have is our upcoming Earth Hour. This year, Plascon is supporting the WWF by supplying paint for murals to raise awareness for Earth Hour (do you like our new Facebook image?). Please make me very happy by switching off this post and doing fun things in the dark instead…
Watch the Talk with Daan Roosegaarde