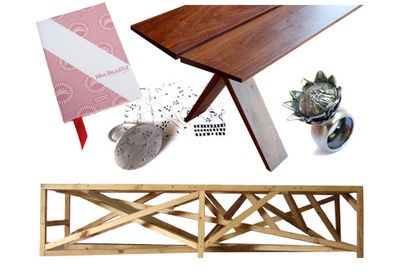 Fanfare, please! Announcing the finalists for the most beautiful objects in South Africa
Ladies and Gentlemen, no designer is an island! Nowhere is this more evident than in the entries received, year on year, in Design Indaba's Most Beautiful Object in South Africa (MBOISA) contest. Great ideas meet visual poetry with aesthetic conventions subverted in ways that are glorious and ingenious, while contestants challenge each other to come up with ever-greater concepts.
Last year's winner was Tsai Design's Nested Bunk Bed, an amazing set of stacking beds that solves the difficulties of organised sleeping arrangements in a confined space, while freeing up space when not in use.
This year, MBOISA is once again judging objects according to a variety of criteria resonant with the 21st century, including aesthetic appeal, social significance, sustainability, economic impact, lifestyle appeal, entertainment and cultural flavour.
Judging beauty in a place as diverse as contemporary South Africa is complicated. In a country influenced profoundly by collisions of culture, whose aesthetics come into play?
We'd like you, the public, to help us with the decision. What, to you, is the essence of a truly "beautiful object"? Does it lie in luxury, ingenuity, making life simpler, in economy or entertainment? Your vote counts! Come along to Design Indaba Expo to view the shortlisted creations in the flesh and help judge the beauty contest, simply by sending an SMS.
And now, without further ado, it gives us great pleasure to announce that the gorgeous contestants in the running to be crowned Most Beautiful Object In South Africa are…
Piece: Art and Justice: The Art of the Constitutional Court of South Africa
By: David Krut Publishing (Bronwyn Law-Viljoen, Ben Law-Viljoen, Ellen Papciak-Rose)


Piece: Chrysanthemum Centrepiece
By: Nomili (Michaella Janse van Vuuren)




Piece: Ribbon Plate
By: Kendal Warren Ceramics (Kendal Warren)




Pretty Filly BenchBy: Koop Design (Richard Stretton)




Piece: Chaos Bench
By: Greymeta Design (William Morafo)




Piece: Suikerbossie
By: Lady Peculiar (Louise van Graan & Truda Serfontein)




Piece: Café of Good Times
By: Frieda Lühl Jewellery (Frieda Lühl)




Piece: Sir Bugs
By: Milk & Cookies (Geraldine Fenn)




Piece: Green-T-4-1
By: African Queen Studio (Lorraine Piers)




Piece: Thorn Carpet
By: Ronel Jordaan




Piece: Mike Stroud (Crips-Ratatat)
By: Milk & Cookies (Jaco Haasbroek)




Piece: Pure Lemon Juice
By: So Gourmet (Francois Te Water Naudé)




Piece: Miss Beautiful: South Africa in Pageants
By: Day One Publishing (Stephan le Roux, Stan Engelbrecht, Tamsen de Beer, Michelle Son)