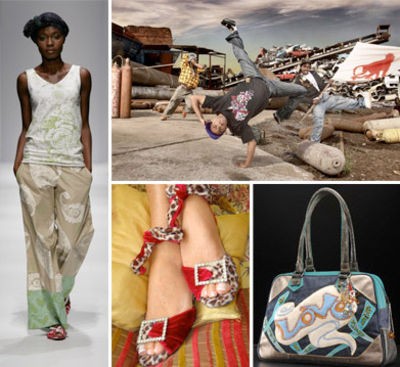 South African fashion designers are at the forefront of the local consumer revolution demanding relevant, fabulous South African design. Local fashion designers represent an ethical vanguard, selling a socially aware identity to its patrons, promoting sustainable local production, defining a national identity that begs the cliché and inviting international interaction without losing its distinction.
Celebrating the embedded story and grander message, the Fashion Arena at the Design Indaba Expo 2009 will again go beyond glossy pages, pouty models and the oh-so-passé catwalk. Presented by the SABC, this dedicated arena will host all-day fashion shows, a film festival, Liquid Chefs cocktail bar and lounges, Pecha Kucha presentations at the end of the day, and a fashion boutique. Visitors to the Design Indaba Expo will pay R50 for unlimited access to the fashion and main floor.

Hot off the New York Fashion Week runway, is Design Indaba stalwart Stoned Cherrie with her Winter 2009 Collection – a hearty celebration of iconic South Africa and all the things we love about our past, present and future. With its luxurious wools, designer jacquards, embellished necklines, flirty silhouettes, nostalgic sophistication and print leather clutches, it is a proud affirmation of Stoned Cherrie's nine-year long journey of exploration and discovery.

Other stalwarts, Hip Hop Factory and Afro Diva will be putting their renowned touch of sjoe-wow to leisure and evening wear for the modern women, while the Karin Monk Klijnstra collection is a cross-pollination of urban wasteland, recyclable fabrics, interesting textures and futuristic, psychedelic colours.

Also continuing its line of clothing with a conscience is Fundudzi. Designer Craig Jacob uses only organic bamboo, cotton and wool, with hemp silk for embellishment and adaptable designs that encourage multiple uses for single garments.

The other Craig, Craig Native promises a collection that will show just why his brand has been called the "Che Guevara of SA fashion". Also making a sly wink at the naughty, the new Undacova collection of funky underwear for men promotes "responsible hedonism". Set to subsequently re-silhouette the androgynous hipster, Stiaan Louw's collection promises to delve into male iconography, reflecting on the somewhat elusive, constantly shifting contemporary sexuality.

In turn, Sandhya Lalloo's SIN will ask women to break free and indulge, while Soulchild Closet fosters a woman's need to discover their inner child and reveal their soul. Also inspiring one's inner kid, Sway Textiles will be showcasing their easy-to-wear lightweight garments and thrilling colour prints.

Hinged on the magic of nostalgia, the I Love Leroy collection captures the essence of the vast landscapes of the Karoo and Northern Cape. Timeless elegance is also the order of the day for Carducci Women by Francois Rall who has created a finely tailored collection crafted from 100% South African Lightweight Wool.

To ensure continued relevancy and international marketability, Design Indaba Expo has also arranged a free seminar with Li Edelkoort, for Design Indaba Expo exhibitors only.

Edelkoort will also address the Design Indaba Conference, along with the other fashion superhero on the programme, Dai Fujiwara, creative director of Issey Miyake. Fujiwara's proprietary software-driven design process represents a whole new creative, technological and ecological rapid prototyping proposition to the fashion industry.
Watch the Talk with Sandhya Lalloo