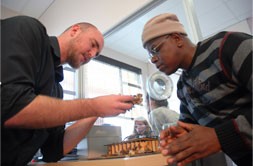 Fablab offers aspiring designers technical support for their innovations and ideas at the 2007 Design Indaba Expo.
For the first time FabLab will be offering free assistance and advice to expo visitors, which will be staffed by a team of instructors and technical university educators.
FabLabs use open-source computer software written by the Massachusetts Institute of Technology's (MIT's) Center for Bits and Atoms to assist designers by providing them with access to a range of off-the-shelf, industrial-grade fabrication and electronics tools that they can use to test their designs before taking them to market.
In addition, the founder of the FabLab concept - Professor Neil Gershenfeld, director of the Center for Bits and Atoms – will be one of the speakers at the Design Indaba Conference (21 to 23 February 2007) that runs alongside the Design Indaba Expo.

"We'll have all the desktop equipment at the expo, so visitors will be able to experience a FabLab in action,"  said Karen van Breukelen, acting manager of the Advanced Manufacturing Technology Strategy for the Department of Science and Technology (DST). "Representatives from the various South Africa FabLabs will be there working on projects and we will have the entries for our lighting competition on display," she continued.
FabLabs, already located in several countries including the USA, Ghana, India, Norway, Costa Rica, the Netherlands, Spain and South Africa, are sponsored by the MIT.
Setting up a fully functional FabLab without assistance from MIT currently costs about U$25,000 (R180,000).
FabLabs afford designers the ability to conceptualise, design, develop, fabricate and test almost anything.
"FabLabs are advanced manufacturing technology platforms enabling empowerment through an environment providing freedom to experiment, peer-to-peer learning and means to solve local problems innovatively," explained van Breukelen.
"The labs stimulate creativity, which in turn leads to techno-preneurship, realising DST's goal of providing platforms not only for social development, but also benefiting private sector competitiveness and growth."
In South Africa the first FabLab was opened in June 2005 and today they are operational in Pretoria, Soshanguve, Cape Town and Bloemfontein. Several more are currently being constructed in Potchefstroom, Kimberley, Limpopo and Mpumalanga.
"The engineering capability for design and fabrication, at micron length and microsecond time scales, opens up numerous possibilities for innovative solutions to common problems," said van Breukelen.
"Since local communities themselves foster this innovation, it can lead to sustainable solutions. High-end technological solutions have not been addressing problems faced on the local level as yet; therefore, we believe Fablabs will provide a thriving incubator for local micro-businesses."
Note to editors:
Professor Gershenfeld's unique laboratory at MIT investigates the relationship between the content of information and its physical representation, from molecular quantum computers to virtuosic musical instruments. Technology from his lab has been seen and used in settings including New York's Museum of Modern Art and rural Indian villages, the White House/Smithsonian Millennium celebration and automobile safety systems, the World Economic Forum and inner-city community centers, Las Vegas shows and Sami herds.

He is the author of numerous technical publications, patents and books including Fab, When Things Start To Think, The Nature of Mathematical Modeling and The Physics of Information Technology, has been featured in media such as The New York Times, The Economist, CNN and the McNeil/Lehrer News Hour, and has been selected as one of the top 100 public intellectuals. He has a BA in Physics with High Honors and an Honorary Doctorate of Science from Swarthmore College, a Ph.D. from Cornell University, was a Junior Fellow of the Harvard University Society of Fellows, and a member of the research staff at Bell Labs.