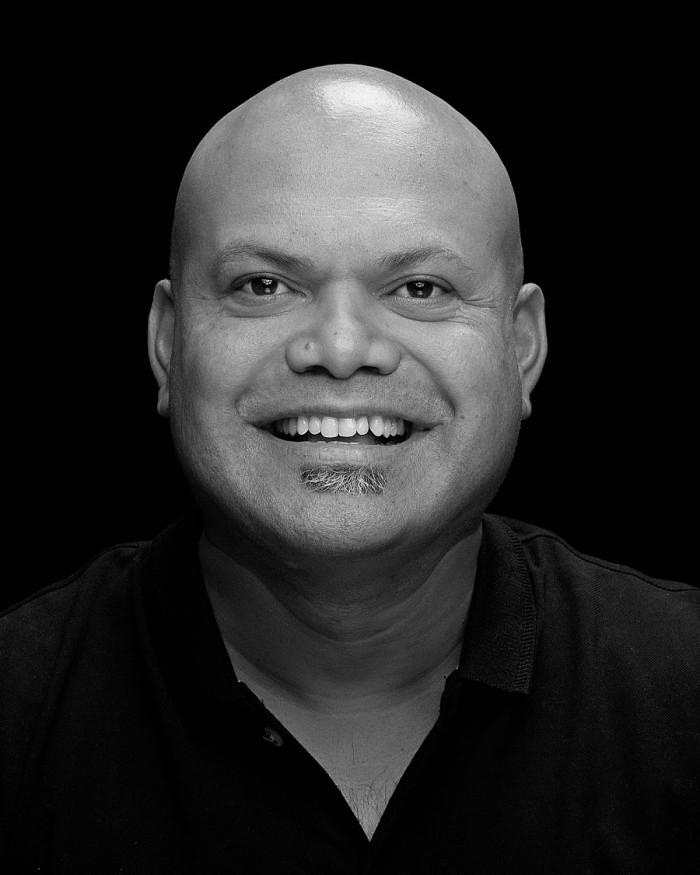 Ravi Naidoo, Design Indaba founder and MD
It's quite counterintuitive that the world's biggest design conference should take place in South Africa. We're now pegged as a global hotbed for design, but are also known for reframing the discourse around design, and its purpose. In the old days of design, you'd buy a decor magazine to gawk at an artefact and talk about the colour or texture. But design cannot be purely about consumption or collectables anymore: it serves a wider purpose.
With our roots in South Africa, a country with one of the most unequal societies in the world, we can't take on design and try to replicate what they're doing in Milan. We can't go gaga over new crockery. The problems of table setting have already been cracked! Our design challenge is more socially conscious: it's about societal issues, whether informal housing, job losses, or technological change.
This is the ethos that has birthed more than 100 projects, interventions, and initiatives in the Design Indaba platform's 22-year history. In this arena, we punch far beyond our weight, after having identified design as a critical area for creating a competitive advantage for business, for society, and for every facet of life — from Design Indaba building a terrace of houses in a squatter camp in Freedom Park, to spearheading the creation of a design syllabus for South African schools.
When we started in 1995, the flagship conference was attended mostly by the creative community, including the occasional hipster, and the relatively young. This demographic has experienced a seismic shift. About half our audience these days are commissioners of design, not just practitioners, who want to explore the world of design, creativity, and innovation. Take a quick scan of the conference theatre and you're likely to see the entire global marketing team of Nando's sitting in the audience; or the entire marketing team of Investec will attend Design Indaba and then convene their global marketing conference the week after.
One might question what bank employees are doing at a design conference. On the one hand, they're able to tap into the zeitgeist of the creative world and draw inspiration from a diverse range of disciplines — but it's more than that. The world is more connected and the competition has increased. With social media, we're instantly global. There's now a whole lot of light thrown into every nook, cranny, and crevice. It's quite simple: mimicry won't do; it only gives one parity. We have to differentiate, and to do that, we must be led by design.
More South African companies are using design as a source code to face down the vexing challenges of the 21st century, and including design thinking as a new instrument in their toolkit. They are on trend — why else would McKinsey, Accenture, Deloitte, and other management companies be buying design agencies? It gives them a new methodology in problem solving, and in driving innovation.
For example, Nando's, a restaurant chain born in South Africa with a global footprint of about 12 000 stores, recently unveiled a new visual identity and interior design, inspired by South Africa, and sourced entirely in the country. To be authentic to the brand, Nando's went so far as to call on the best artists and designers from the South Africa to contribute new artworks and furnishings.
Here we have one of our more successful global brands saying we're huge abroad, but we place a lot of store in the design savvy of our home country, and allocating tens of millions of rand in procurement from the local creative sector.
The creative industries could be the sector that replaces the 19th-century mining industry. Our dream is to see a section on the JSE roster that holds the creative industry alongside retail, hospitality, and mining. South Africa can be to creative services what India is to information technology: a globally competitive outsourcing hub, with world-class production at rand-based prices.
It's happening already. Grid, a design agency in Joburg, is rebranding Michelin in Paris, and branding the new Louvre in Abu Dhabi. Ruben Reddy in Durban designed the ice hockey arena for the Sochi Winter Olympics in Russia. Jupiter Drawing Room has the global design account for Virgin. Triggerfish has been commissioned for the next two Christmas specials for BBC1, after its award-winning Stick Man movie was broadcast in 2015. Saota, the architectural practice in Cape Town, has just designed Epique Island, a luxurious residential
development on coast of Yalikavak in Bodrum, Turkey. And there are hundreds more. This is a sector that's burgeoning — and the world has taken notice.
That's why we're betting the farm on South Africa's creative futures.