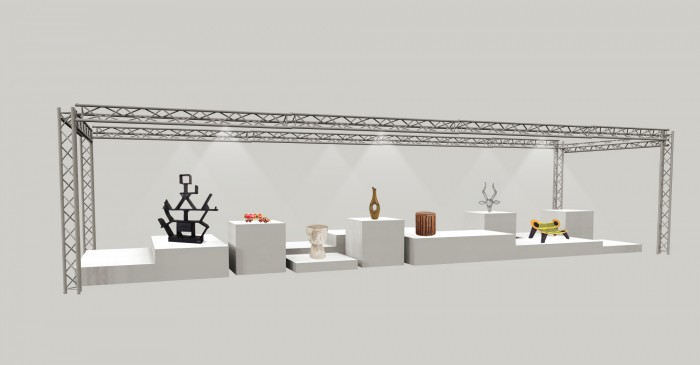 First Editions at Design Indaba Expo 2014.
A showcase for new work at Design Indaba Expo 2014
Design Indaba Expo is offering a new feature called "FIRST EDITIONS" for exhibitors who want to unveil a new piece and have a presence at the leading design exhibition on the African continent.
In response to exhibitors' requests for smaller spaces and more diverse exhibition options, Design Indaba conceptualised this showcase of new work. The centrally located pavilion comprising 20 x 1 sqm spaces will provide a curated space to show off your latest design or product.
With more than 34 000 visitors (Design Indaba Expo 2013) including a host of local and international media and buyers, the "FIRST EDITIONS" pavillion will provide a potent platform to launch new work. The added benefit is that you won't need to build or man your own stand.
No hassle or headaches
You won't need to set up the display, hire a stand builder or fuss with lighting and electricity – we will take care of all that for you. Simply deliver your product for display.
High visibility
The pavilion is located in a prime position at the centre of the floor, alongside the bar area.
Who can take part?
IAny designer from any sector, as long as you're launching a never-before-seen product or range. All participants will first be required to go through an online curation process.
Value for money
The fee of R4 500 (excl VAT) includes:
• Plinth space of 1 sqm
• Branding with name, product info and contact info
• Lighting
• Carpeting
• Access to electricity if required
• Additional security for duration of show
• Mannequin for fashion exhibitors; secure display case for jewellers
• Buyers Guide entry
• Marketing on designindaba.com
This will be an unmanned stand, offering each exhibitor separate branding, product info and space to leave business cards.
Please see stand sketches for the display concept. There are 20 x one sqm spaces. Exhibitors can also purchase more than one space.
We will take exhibitors' styling or display needs into consideration but please note that the entire pavilion will be presented as a coherent whole. Additional expenses, such as rigging if required, will be for the exhibitor's account.