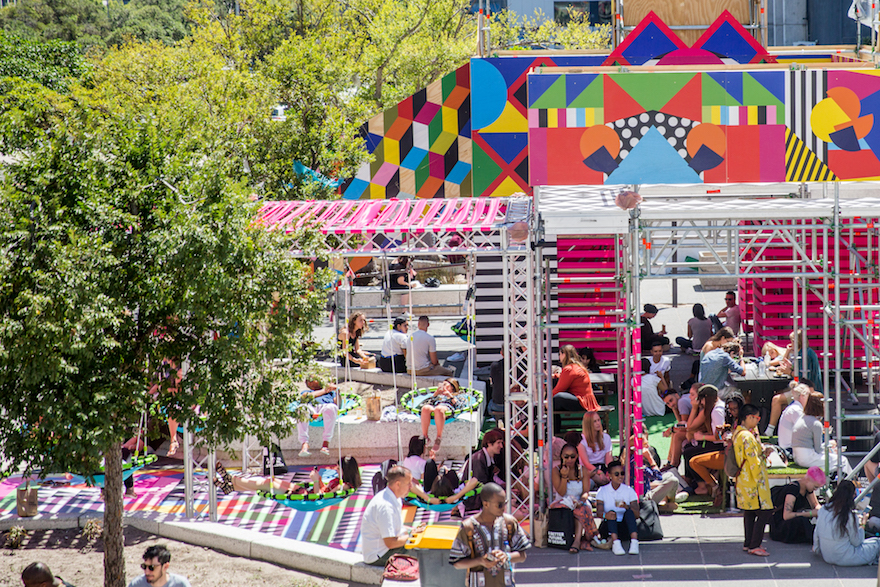 Design Indaba Festival of Creativity has grown into one of the world's biggest design festivals drawing an impressive list of speakers from the continent as well as around the world.
This February's event was no different.
Hosted by Lebo Mashile, Buhle Ngaba and Michael Bierut, the conference opened on with a moving talk from Zimbabwean filmmaker Sunu Gonera.
He spoke about how his background influenced the work that he did as well as to talk about afrofuturism through his own words as well as those of fellow creatives he works closely with.
Gonera not only garnered a standing ovation but also finished off with a surprise performance from his collaborator on the One Source campaign, Khuli Chana.
This year's conference featured over 30 speakers including Es Devlin, Natasha Jen, Mark Kamau, Neri Oxman, Amna Elshandaweely, Tom Dixon among others.
Throughout the course of the three-day conference they tackled issues ranging from the water crisis, design thinking, greening neglected parts of the Cape Town CBD to rebuilding a whole city in Chile following an earthquake, new innovations in tech and design as well as projects focused on using design to build more empathy.
The latter included our youngest speaker at this year's conference, 19-year-old Kenyan social entrepreneur Leroy Mwasaru who is looking at bringing renewable energy to the previously disadvantaged.
Mwasaru formed part of Design Indaba Conference's Global Graduate platform where young graduates from around the world are given the space to share their ideas with the world.
Another Global Graduate who looked at building more empathy is Dutch product designer Simon Dogger. Having lost his eyesight a few years ago, he created the Emotion Whisperer as a subtle tool that can prompt the visually impaired with the body language they're otherwise missing out on. It comes with a pair of camera glasses that send images of conversation partners to an emotion recognition app that way translating emotion that would otherwise go unnoticed by people who are visually impaired.
Design Indaba commissioned speaker Morag Myerscough to build a colourful installation called Embrace The Unknown that turned the Artscape Piazza into a creative playground.
Known for bringing colour and life into often grey spaces with her bold geometric prints and public art, the award-winning UK designer also took to the stage to speak about her career which stretches 20 years.
Outside on the Artscape Piazza the crowd enjoyed lunchtime tunes from Kaya FM's DJ Kenzhero.
The Tolerance Travelling Poster Show
Throughout the day people could enjoy pop-up galleries from our speaker Edel Rodriguez, who has been dubbed America's "illustrator-in-chief " for his depictions of President Donald Trump.He also formed part of our outside pop-up gallery featuring the work of over 40 graphic designers from around the world called the Tolerance Travelling Poster Show.
Our 40 Emerging Creatives also exhibited their work while we also showcased the ten items voted for in this year's Most Beautiful Object in South Africa.
This year's Nightscape at Design Indaba also featured a two-day line-up of some of the continents best musicians including Zaki Ibrahim, Blinky Bill and Friends, Alec Lomami, Steloolive, Petite Noir, Itai Hakim and many more.
At the end of last year's Design Indaba, it was announced that the Arch for Arch monument would be erected in honour of Archbishop Desmond Tutu as well as the South African Constitution.
A tribute to Hugh Masekela
The end of this year's Design Indaba ended of a high note as well when artists including J-Something and Tsepo Tshola took to the stage to help honour the late jazz legend Hugh Masekela in song.
It was announced that the biggest gallery at the Zeitz Museum of Contemporary Art Africa (MOCAA), which was designed by Design Indaba 2018 speaker Thomas Heatherwick, would be named the Hugh Masekela Gallery.
Bra Hugh's sister, Barbara accepted the gift on behalf of the Masekela family while his nephew, Selema, recited a poem dedicated to his uncle.
Tshola, accompanied by Bra Hugh's band, gave a rousing performance of Masekela's song Thuma Mina that had the audience on their feet.
But as with President Cyril Ramaphosa's recent call to the country during his State of the Nation address, it also served as a call of duty to not only the design community but to all of us, to lead, serve and help create a better world through creativity.