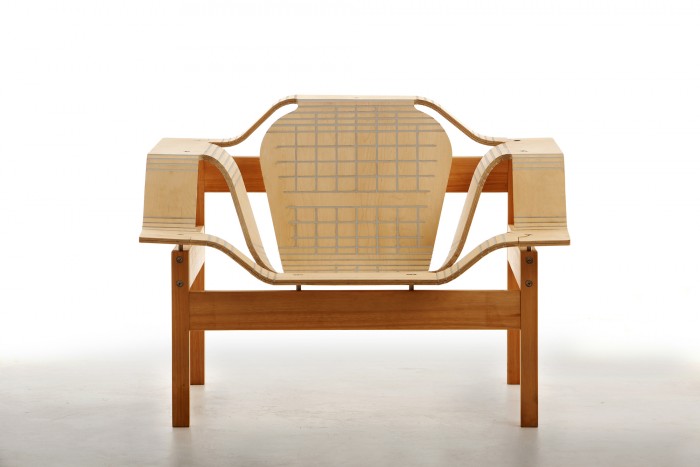 Stratflex chair by Wintec Innovation
There was no shortage of beautiful things at this year's Design Indaba Expo; from the edgy trendware in the emerging creatives' corner to the delicate bling in the jewellery corridor. There were all the "flavours" of the rainbow in the fashion boutique.
The Western Cape Furniture Initiative stood tall in its championing of contemporary design, showing original storage solutions by local furniture designers, and Parisian trend forecaster Li Edelkoort's Memphis Meets Africa stand proved how well our country's work is tracking international fads.
Our South African predisposal for cynicism reared its head at the abundance of craftwork. It is a criticism that is levelled at the expo every year by serious design professionals and minimalists who miss an element of architecture and industrial design. It is this tension between what the design pros and suits think South African design "should" be and what the 52 000 visitors (2012's figures) actually buy that makes for the fascinating contrasts that distinguish our national aesthetic.
This year, both sides won — Gavin Rajah's handmade leather pebble dress was named the most beautiful object in South Africa, as voted for by the public, and Wintec Innovations's newly patented Stratflex furniture won the innovation award, as judged by professionals.
Part of the spring-summer 2013 couture collection, Rajah's dress is the result of a collaboration with the Klein Karoo Co-op last year, in which a technique to foil ostrich skins was developed. The leather is moulded over pebble shapes and then embroidered on to mesh by hand. The colour of the dress is gradated from chocolate at the bottom to rose gold at the top.
Some South Africans may squirm at our handmade heritage, but the power of the handmade was emphasised repeatedly by international speakers at the Design Indaba Conference.
Touching and thinking design
Afropolitan architect David Adjaye predicted an urban crisis if we continue to let mechanisation build our cities. Daniel Charny told delegates that the 2011 exhibition titled The Power of Making, at the V&A Museum in London, attracted the biggest audience the museum had ever seen and launched his fixperts.org social network to promote making and fixing.
The message, perhaps, is that South Africans should own our national heritage with international pride. That said, it's pretty exciting when an East London company comes up with a radical innovation to turn flat-packed furniture into comfortable, flexible and stylishly rounded lounge items.
Term it East London-style Scandinavian, if you will. Rubber-injected joints in plywood seats take the one-dimensional rigidness typically associated with flatpack and transform it into moulded sitting experience, even with a little bounce.
"This award is the culmination of a life of looking at, feeling, touching and thinking design," said Al Straford, founder of Wintec, on winning the innovation award. "The product gives me a legacy to leave to those around me."
Finding a happy medium between these extremes of the handmade and the industrial, Cape Town design duo Thingking walked away with the third Design Indaba Expo prize — the most creative stand.
Marc Nicholson and Lyall Sprong installed their Rube Goldberg-inspired gumball machine, which enchanted young and old alike. Made entirely from junk sourced at the Milnerton Market, the machine puts gumballs through about a minute's worth of trials and tribulations involving a veldskoen, a car's central-locking motor, a treadmill, plastic palm trees, a xylophone, a magnifying glass, a mirror ball, a midi keyboard played by a stick on a rotating arm, a plastic shark tank, a Polaroid camera, a birdhouse, a zoetrope of dancing bears, and wobbly legged wooden toys. Playful but high-tech, entailing good, old-school, home-programmable electronic boards.
The duo's geeky industrial side really comes to the fore when they explain that the paper designs hanging off their mobiles have exactly the same mass — they calculated and designed them that way. Geometric powder-painted, steel-rod plant stands and trestles comprise their covetable industrialised wares.
It is gratifying to witness this increasingly diversifying South African design industry every year in Cape Town, delivering more original and radical wares for show at the Design Indaba Expo.
Watch the Talk with David Adjaye
Talks
• Duration: 00:43:07
•
9 May 19