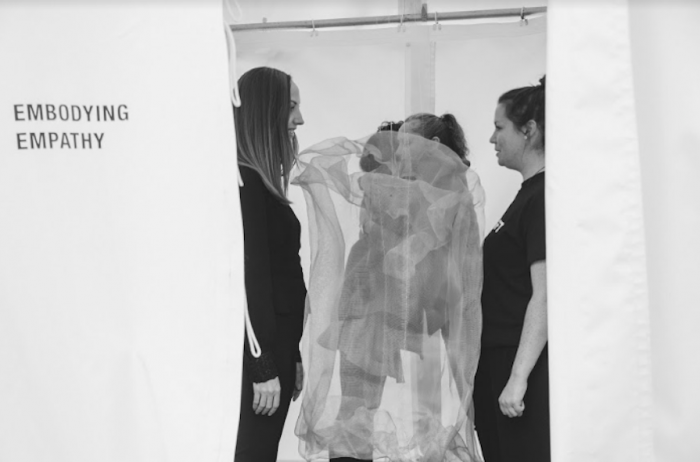 Photo: © LIFT / Photographer Ingrid Guyon
Enni-Kukka Tuomala is a Finnish empathy designer and artist based in London. Having graduated from Global Innovation Design Masters at the Royal College of Art and Imperial College London in 2018, she focuses on issue-based empathy to address the growing empathy deficit in the world today.
Empathy is often seen as an abstract and intangible emotion. Tuomala's approach aims to transform empathy from an individual feeling to a practical and powerful collective tool for positive social change.
Having created empathy work in London, Tokyo, New York and Helsinki, Tuomala breaks barriers to difficult conversations and brings in new perspectives by challenging cultural, social and behavioural norms.
Her empathy work has previously addressed global challenges such as the polarisation of politics, sexism and sexual harassment, racism and the global refugee crisis, working with stakeholders from global CEOs and politicians to diverse communities around the world.
Since 2018, she has collaborated with the Finnish Parliament to bring empathy into politics. Working with six Members of Parliament from five different political parties, Tuomala has created empathy tools for the political decision-making process to redesign interactions and dialogue at the heart of power.
In 2019, her Campaign for Empathy, set in the London borough of Newham against the backdrop of Brexit uncertainty, extended the themes of this work from politicians to addressing the growing divides in communities.
The campaign explored the distances between the power (local decision-makers) and the people (local residents), fostering safe spaces of mutual understanding, connection and conversation through empathy.
Tuomala's work is currently exhibited at the Philadelphia Museum of Art in the show 'Designs for Different Futures' until March 2020. She recently installed her first permanent empathy artwork in London and is about to extend the Campaign for Empathy to Cambridge, as a part of the Open House Residency at Kettle's Yard in 2020-21.
Before launching her own studio, Tuomala worked as an award-winning strategist in advertising at Saatchi&Saatchi and adam&eveDDB in London.
Follow @akin.kollektiv on Instagram and @ennikukka on Twitter. For more information, visit www.ennikukka.com.
Enni-Kukka Tuomala is one of the young global graduates selected to speak at #DI2020. Design Indaba curates the selection of global graduates together with the heads of more than 40 design institutes and colleges (and beyond) around the world. The selection has been guided by the United Nations' sustainable development goals. Each change-maker must demonstrate social or environmental impact, engagement with global challenges, project feasibility, and/or an exceptionally high level of innovation.