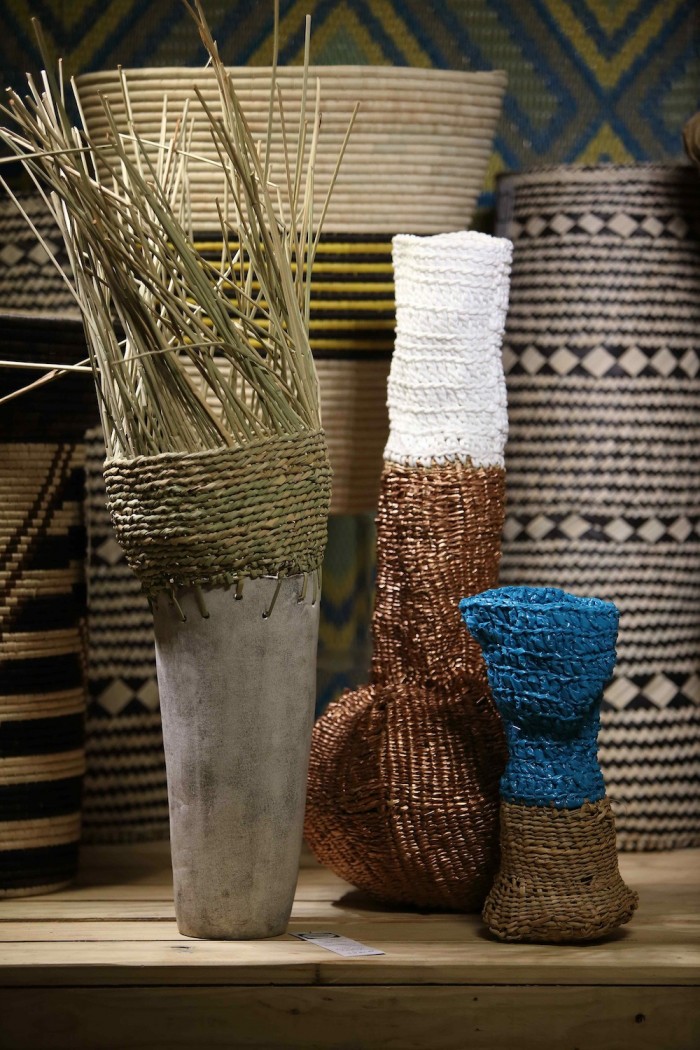 Design Afrika vessels. Image: Henk Hattingh.
While hunting for design treasures at Design Indaba Expo 2014, we spotted this exquisite trio of unusual woven vessels on Design Afrika's stand. Each one employs an unexpected material combination to great effect.
"We wish to show how crochet, knitting and embroidery are all forms of weaving and can be used together with dramatic results," says Binky Newman, founder of Design Afrika.
Ceramicist Clementina van der Walt and women from the newly formed DuNoon Urban Weavers collaborated on a ceramic and natural fiber combination (far left).
The copper and white piece (middle) was another co-creation. The long-neck Xhosa vessel was woven by Masizame Women's Project and sprayed copper by Guidemore Chigama, who works with Newman at Design Afrika, while its crocheted neck of white cotton was done by designer Beverly Smart.
"The natural fiber used is 'imizi' or cyperus textilis and is the traditional plant material used by Xhosa weavers in the Eastern Cape. We combined it with white cotton to illustrate how a happy marriage of the two organic materials can live in a contemporary interior decor piece," explains Newman.
Smart, who resides in France and regularly spends time in Cape Town working with crafters, also teamed up with the DuNoon weavers for the vessel (far right) that matches a woven imizi base with a neck made from crocheted plastic recycled from shopping bags.
In urban areas, shopping bags have replaced the use of baskets – incorporating them here transforms the piece into a reflection on our contemporary condition. "We are not sure which material will last the longest but we think the natural material will be the winner," says Newman.