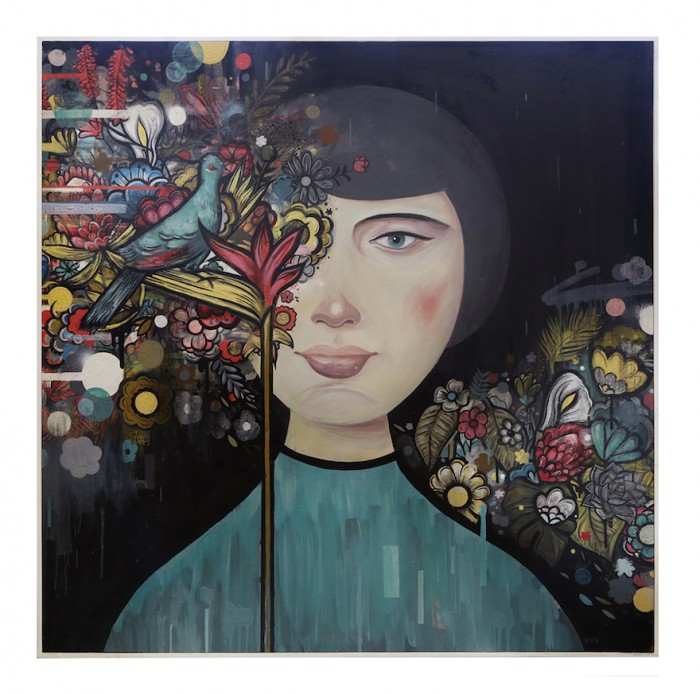 Wesley van Eeden is a designer, illustrator and painter based in the surf city of Durban, South Africa. He was one of Design Indaba's Emerging Creatives in 2007 and has since travelled to New York to take part in an exhibition with students from the Queens College. He also recently held successful exhibitions across the country and won the K-Swiss Shoe Design Competition. We caught up with him to find out what he's been up to since being an Emerging Creative.
What is your relationship with the city of Durban?
I am born and bred in Durban. Most of my family is here and that's primarily the reason I'm still here. Durban has great weather (besides the humidity) and the laid back vibe means less traffic and less distractions. I try and draw inspiration from both the negatives and positives of the city, which I hope helps me create my own distinct voice.
Tell us about your trip to New York?
A life-changing experience! A professor from Queens College bought a painting of mine at a show in Cape Town some time ago. Then a couple years later the college was hosting a programme called The Year Of South Africa. I was invited to create a painting with the art students and do some lectures at the campus. The painting is now installed in the college library in their permanent collection.
While I was thinking about what I was going to paint I saw the words "mission possible" on the back of a mini bus taxi. These words resonated with me. South Africa faces so many problems – crime, poverty, corruption and unemployment... but I feel there is still hope in creating a better country! I included these words along with three characters doing the taxi dance, which is a dance movement that mimics the culture of the taxi driver. I also included the Protea, South Africa's national flower, as a metaphor for unity.
While I was in New York there was load shedding and xenophobic attacks happening all around South Africa. One of the Queens' college student suggested we include a quote in the painting from South African artist Peter Clarke's short story, The Changing Of The Season. It's my hope that this painting and these words inspire people to live by his words:
"Instead of worrying who's got what blood in them, we should just get on with living our lives and doing what we got to do".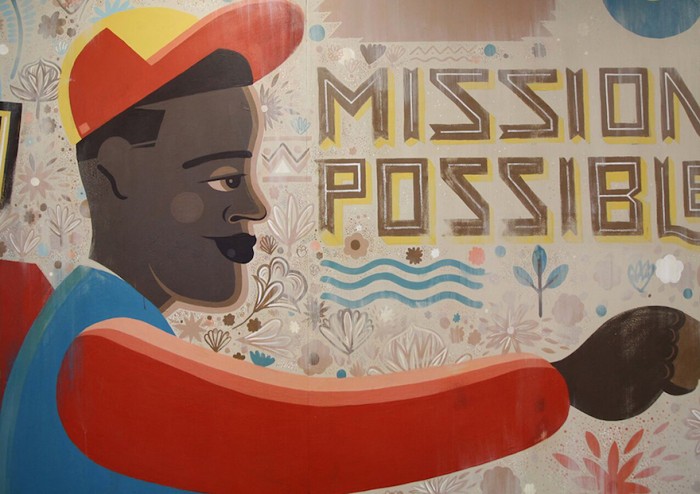 You did a graphic for Verb Skateboards that has the text "we should appeal to our leaders". Do you have a political agenda or message you try and convey through your art?
In the past I have been influenced by local signage, especially from the hair salons in Durban. I think it's part of my visual DNA and it naturally flows when creating images. I don't have a specific agenda with my work. I want to create work that is positive and leaves people in a good mood, but I also want to challenge my thinking and perceptions. When I created the skateboard design for Verb, I felt that it was important to say something about the politics in South Africa. Things are not looking so great here and I am depressed about it to be honest. There is lots of good things about the country, but we all have to play a part in shaping the country's future. We have to learn to question and learn to love.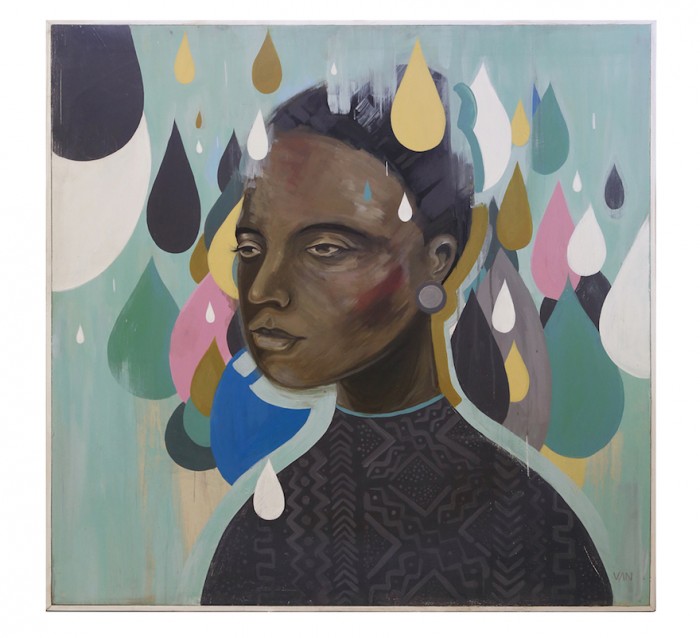 What are some of the challenges you face as an artist in South Africa?
Living in Durban does feel like I'm off the map a bit and there's not much of a contemporary creative scene. Don't get me wrong, there is some really, really amazing creatives and companies here, but there is a lack of support and energy. However, the Internet is an incredible tool for creatives to get their work out there. You just need a good internet connection and some hard work.
You tend to work with limited colours? Why?
It's dependent on various things: budget, deadline and concept. I am a firm believer in "less is more".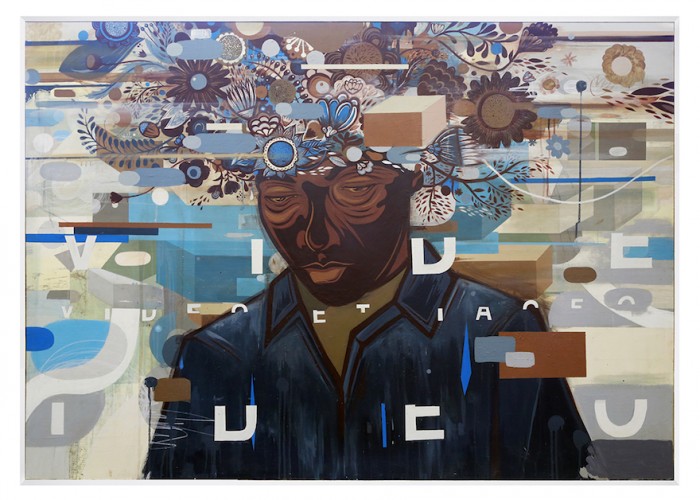 What formal training do you have in art?
I studied Graphic Design at Durban University of Technology
Were you producing art before your studies?
I grew up skateboarding but was too poor to buy a pro model - the ones with fancy graphics on them. I started painting my blank boards back in 1996, and from there my adventures begun.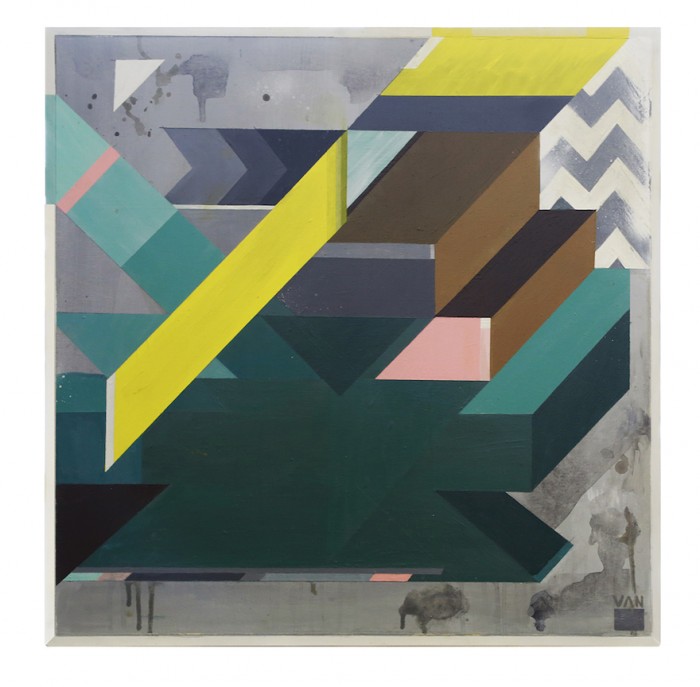 You are part of the RVCA Artist Network Program? How did this come about and what exactly does that mean?
RVCA are a fantastic clothing company originally from the States. They are involved in skateboarding, surfing and the art world and have galleries in some of their stores. They support artists on their ANP with exhibitions and creative projects. They are one of the few brands that are actually invested in the underground art community. I was lucky enough to have been invited to join the team when Ricky Lee Gordon was running Word of Art gallery in Cape Town. RVCA have been a supporter in my art projects since 2011 and have helped me build my career. No other gallery or company has helped me as much as them!
You strike me as a punk rock kind of guy and I am under the impression you play in a band? Are you influenced by music and the punk rock lifestyle?
I played in a straight edge band from 1998 to 2005. Even though I was obsessed with skateboarding I wasn't into drinking or going to parties. I had seen the effects of drugs at an early age and have never indulged in any of it. It's amazing what hard work and passion can do. The DIY ethics of hardcore and straight edge is probably the backbone of who I am today. I am still straight edge.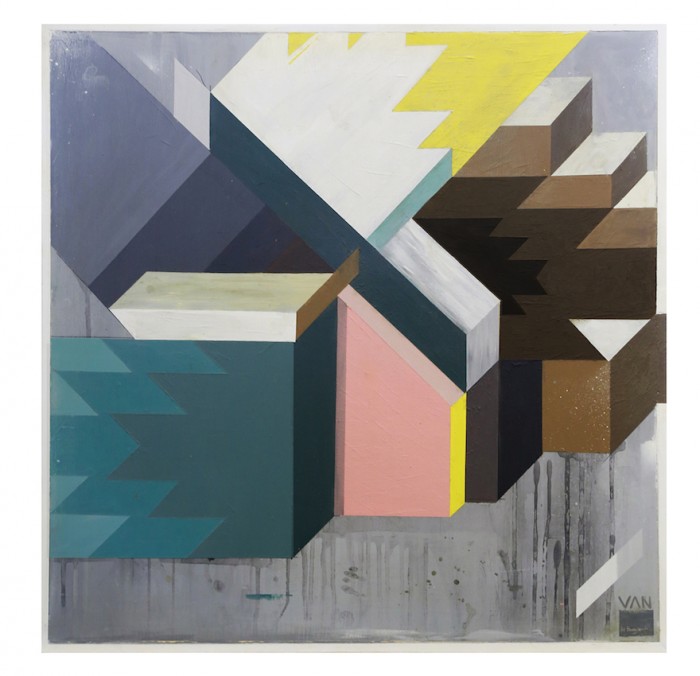 You're a full time artist and support a family. Would you say your best work is done through inspiration or perspiration?
Having a family changes your view on life. Your life becomes less about you and more about others. I have learnt to appreciate life even more and our son is a huge inspiration in my personal work. The small things in life constantly intrigue him. He is super energetic too and this kind of energy is infectious. I think my work is equally inspired by my wife and son and knowing that I have to put food on the table!
What's your five-year plan from 2016 onwards?
Wake up, work hard, love hard. Give back. Repeat.