Waterstudio is a specialised architecture firm based in Rijswijk, the Netherlands. Led by principal architect Koen Olthuis, Waterstudio recently completed the concept design for Parthenon, a seawall structure that could revolutionise the way we protect our harbours from strong waves and tidal pulls.
Parthenon is a rethink of the static architectural solution often used in urban design, as the designers of Waterstudio saw an opportunity to harvest "blue" energy in a totally eco-friendly way. It is a kind of water turbine, converting the natural swell of water into energy in the same way wind turbines do above ground, only Parthenon's resilience in breaking the tide makes it a perfect defense for vulnerable coastlines and river banks.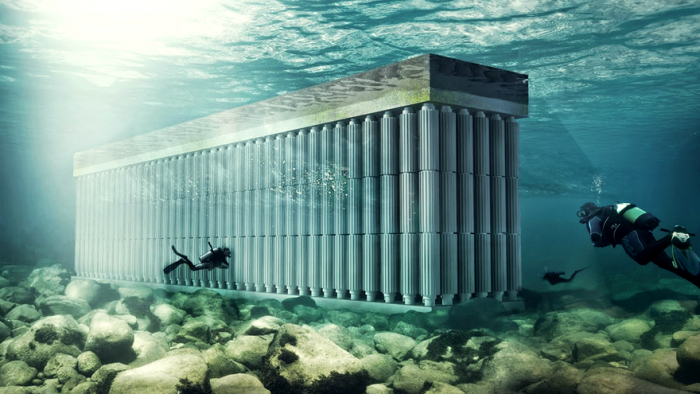 Named for its resemblance to the famous Greek temple of Athena (and looking like a piece of the lost underwater city of Atlantis), Parthenon is a dynamic wall comprised of many rotating columns. Each column has ridges along its surface, allowing it to turn clockwise or anti-clockwise according to the direction of the ocean's tide.
The structure can float alongside a river bank (it is not an ultraheavy wall, since the inside of the rotating columns are filled with water) or it can be anchored in the seabed. Not only can Parthenon protect a harbour from powerful wave surges in the same way that normal marine barriers do, but it converts that same power into useful electricity via a concrete box housed in its upper platform.