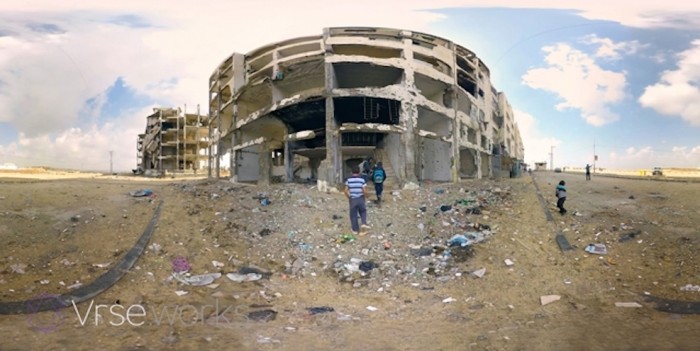 My Mother's Wing is an eight-minute virtual reality short film that takes the viewer through the daily life of Om Osama, a mother who lost her two sons in the bombing of a school by Israeli forces in Gaza. The film follows her narration through the destructed town she calls home. It shows how she copes with the heartache and loss.
Her's is just one story of many. This week, the UN Security Council held an emergency on the violence in Gaza. It's reported that Kuwait is preparing a draft resolution to protect Palestinian civilians while the United States defends ally Israel's use of "restraint." This comes after 60 Palestinians died on Monday, the majority killed by Israeli fire during a protest at the border with Israel.
Created by Vrse.works in collaboration Gabo Arora, a United Nations advisor, My Mothers Wing is one of a few short virtual reality films Arora has created in an effort to shed light on the shocking realities citizens in war zones face.
Arora said: "At the UN, we consistently strive to bring citizens' perspectives into the decision-making process in anyway possible".
"By leveraging breakthrough technologies, such as virtual reality, we can create solidarity with those who are normally excluded and overlooked, amplifying their voices and explaining their situations."
Virtual Reality filmmaking is on the rise among filmmakers previously utilised by video game creators. The technology to create and view virtual reality has become more accessible, advanced and affordable in recent times. According to Oliver Franklin-Walls of Wired.com, virtual reality filmmaking will transform the movie industry in the near future.
Viewers can watch virtual films on laptops, desktop computers or smart phones in the form of a 360-degree viewing experience. By clicking and dragging, the viewer can experience the full spectrum of the subject's surroundings.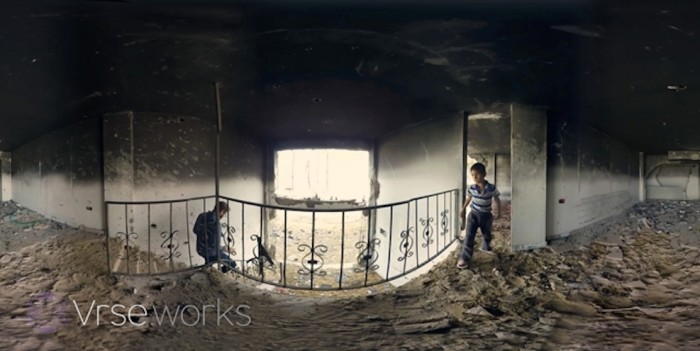 For the best experience, it is better to use a virtual reality viewer like Google's Cardboard.
More on design in Gaza:
Meet the surfers of the Gaza Strip
Gaza Girls: Girls of the Gaza Strip is a testament to the resilience of the women of Palestine
Banksy's Walled Off Hotel explores the magnitude of the West Bank's occupation