Architectural Guide: Yangon, co-authored by Manuel Oka, Ben Bansal and Elliott Fox presents around 100 noteworthy buildings from Myanmar's historical capital. This book is an ordinary guide made extraordinary by the reality that Myanmar has been invisible under decades of military rule and international isolationist policy, leaving Yangon's architectural heritage untouched.
The guide is divided into chapters with each covering different buildings across different locations in Yangon such as Botataung, Kyauktada and Kamaryut among others. The book melts together a mixture of gilded Buddhist pagodas, hangovers from Myanmar's colonial past and modernist buildings spread across Yangon.
The modernist buildings were designed after Burmese independence from colonial rule by a variety of sources such as American and British architects and the Soviet Union. Despite their different origins, the buildings all radiate the attitude of a newly independent nation. Architectural Guide: Yangon gives us a look at how the modernist buildings of Yangon have survived both the years of isolation and a brutal military rule.
Pitaka Taik (Tripitaka Library)
The Tripitaka Library, also known as the concrete flower of Myanmar was built to function as a Buddhist library. Burma's first post-independence prime minister, U Nu, a devout Buddhist, commissioned American architect Benjamin Polk to design the library in the late 1950s. Polk chose reinforced concrete for Tripitaka because of the scarcity of other building materials. The word "Tripitaka" is derived from the ancient Pali language and translates as "three baskets", denoting the three pillars of Buddhist teachings.
Images: Manuel Oka
Thakin Kodaw Hmaing Mausoleum
The mausoleum was built in commemoration of Thakin Kodaw Hmaing, a man considered one of Myanmar's greatest poets, writers, and political leaders. The mausoleum was completed in 1966 and designed by architect U Kyaw Min, artist U Ohn Lwin and artist U Paw Oo Thett. The modernist mausoleum boasts some art-deco influence and has a book, a peacock, a dove and a hammer and sickle on the front door to symbolise the virtues of the poet – literary genius, independence, peace and communism.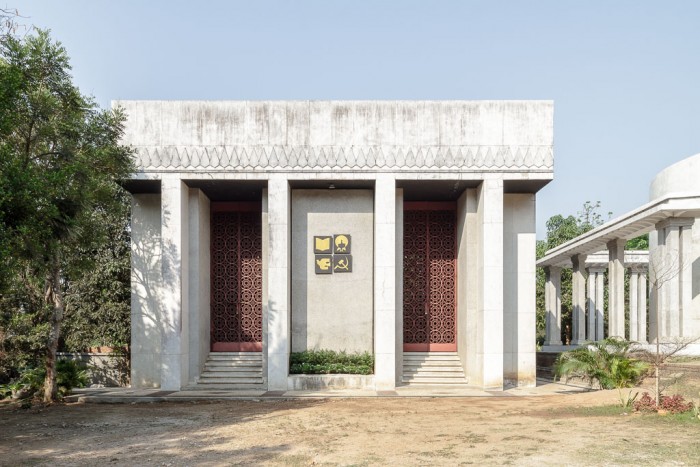 Image: Manuel Oka
Inya Lake Hotel
Donated to the dawning Burmese nation by the Soviet Union, the Inya Lake Hotel closely follows the architectural style of the Soviet rest and relaxation resorts. It was designed by modernist architects Viktor Andreyev and Kaleriya Kislova, the sole female architect featured in Architectural Guide: Yangon. Completed in 1962, the hotel is designed in the shape of a submarine and has a giant steamship chimney-like pipe, creating a playful nautical association. It also features a large entrance canopy to accommodate Myanmar's torrential rainfall.
Image: Manuel Oka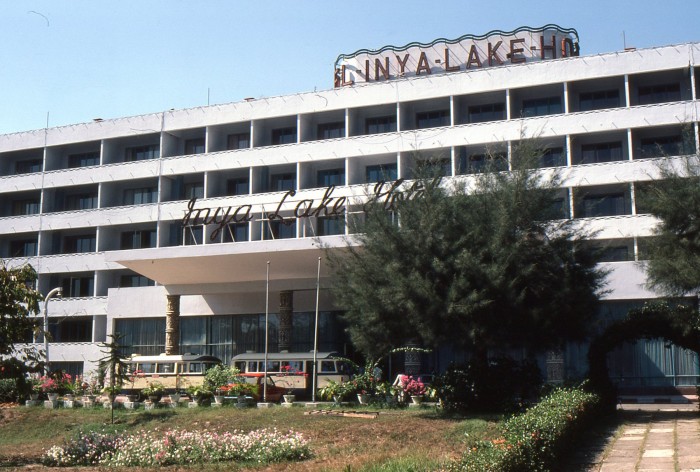 Yangon's Children's Hospital
The children's hospital was designed by U Tun Than, one of the first architects to graduate from Yangon University in 1958. After graduation, U Tun Than became an architectural apprentice at the British Ministry of Health in the United Kingdom. This helped him specialise in hospital architecture. The façade is designed to create shade and provide cooling.
Image: Manuel Oka
University of Medicine (formerly Engineering College of Rangoon University)
Raglan Squire, who had made a name for himself during the reconstruction of war-damaged London, designed the University of Medicine. Completed in 1956, the building was one of the first major public constructions after Burmese independence from British colonial rule. The Library building is lit from the inside so that all the stained glass, coffin-shaped windows sparkled like a Christmas tree.
Image: Manuel Oka
"Architectural Guide: Yangon" will be published in October 2015 by DOM Publishers.
This article has been amended to credit the images to Manuel Oka.