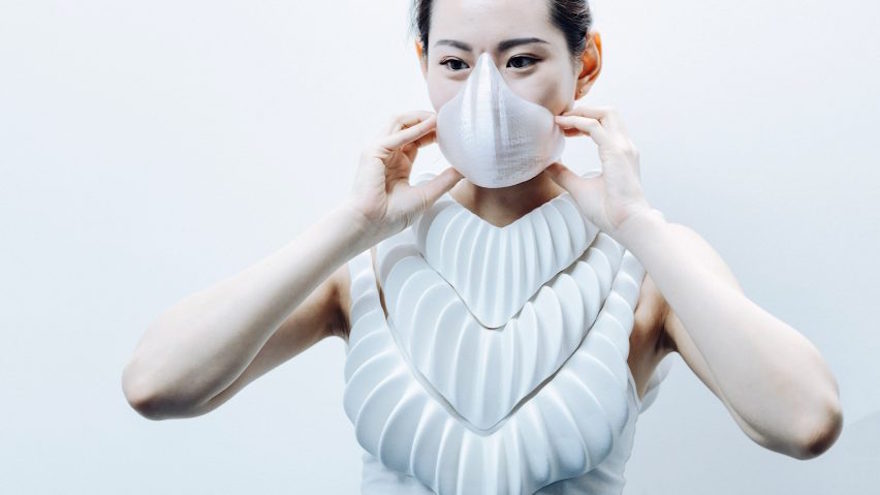 Over the past few decades, scientists have consistently observed sea levels rising at an alarming rate. In fact, according to National Geographic, the annual rate of rise over the past 20 years has been 3.2 millimetres a year – roughly twice the average speed of the preceding 80 years. A direct result of global warming, this phenomenon will ultimately affect island nations and countries that sit at a low elevation the most, meaning experts may have to begin creating solutions for a world in which our everyday environment is permanently semi-submerged.
With these possibilities front of mind, an innovative Royal College of Art (RCA) graduate developed a 3D-printed garment designed specifically for a future in which humankind lives in very close proximity with water.
Called Amphibio, Jun Kamei's creation consists of a gill and a respiratory mask and was designed as a garment that could support underwater breathing. A researcher, designer and materials scientist for the the MicroLab team – a joint initiative between the Tokyo University Institute of Industrial Science and RCA – Kamei's practice frequently sees him working within the field of biomimicry, and Amphibio seems poised to solidify his expertise within this field.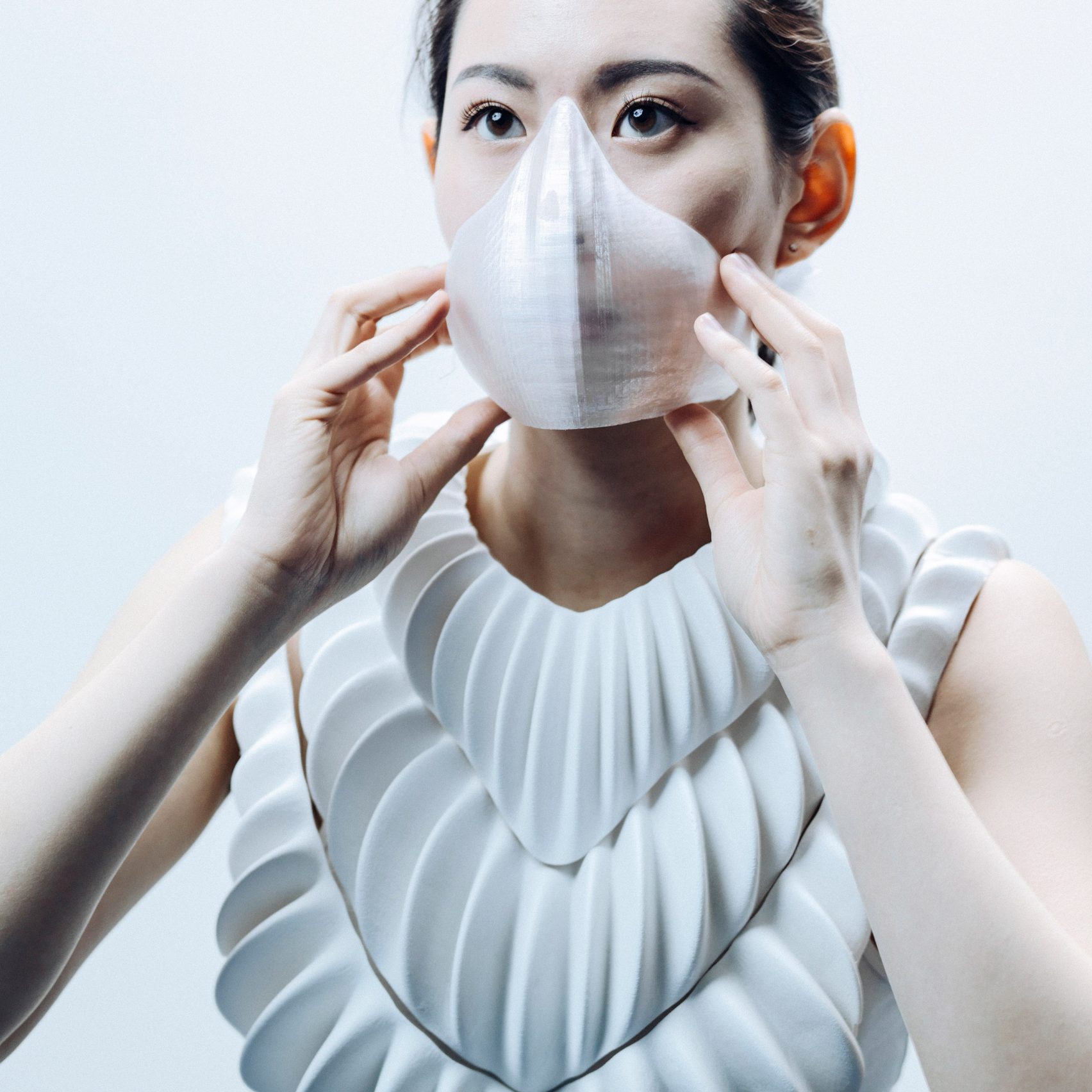 A working prototype, the current version of Amphibio is not able to produce enough oxygen to sustain human breathing. It is, however, able to extract oxygen from water, and release carbon dioxide back in, meaning that it has the potential to be used for underwater breathing. Inspired by water-diving insects that are able to survive thanks to a thin layer of trapped air on the surface of their superhydrophobic skin – which operates as a gas-exchanging gill – it consists of three, multimaterial 3D printed rings worn around the neck.
Hollow inside and filled with air, these rings form a device that is used to breathe in and out via the mask, which connects to the 'gill' by a tube. Printed using a custom filament that Kamei had to develop himself, this microporous matter is a combination of hydrophobic and elastomeric materials that supports subaquatic breathing by extracting oxygen from the surrounding water. Microscopic pores allow only air – no water – to move through.
"The system is enclosed with air tight one way valve, thus the only way oxygen could be replenished in the gill is through the membrane from the surrounding water," Kamei explains in an interview with 3D Printing Industry. "The surrounding water has oxygen dissolved into it, and because the percentage of oxygen is low inside of the gill, these oxygen molecules in the water travel through the membrane inside of the gill to compensate the concentration difference, like the process of osmosis."
Next up, Kamei is looking to begin testing his Amphibio creation on human beings. To do so successfully, his 'gills' need a surface area of at least 32 square metres. "In the near future," he says, "it could allow the wearer to stay underwater longer than in free diving, but with less equipment – such as a smaller gas tank – than used in scuba diving."
Read more on biomimicry here.
bioMason grows bricks without using any heat
New wind turbine mimics the hummingbird