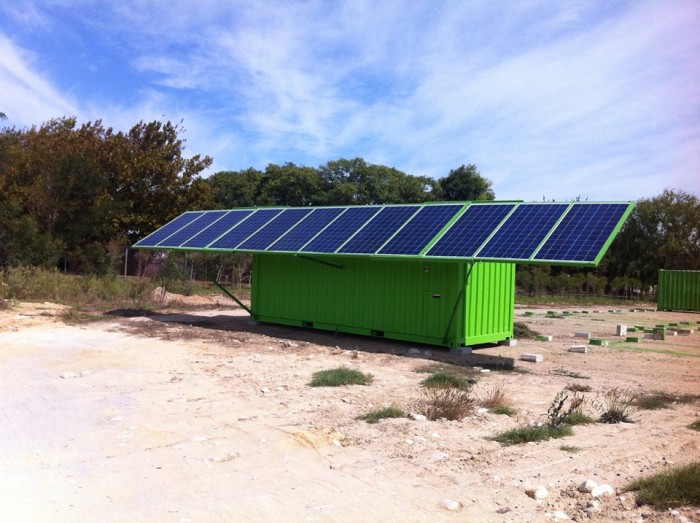 SolarTurtle is an innovative green energy product that relies solely on battery-based distribution for rural electrification
Functioning as a solar energy distribution point or a as a mobile power station unit, SolarTurtle is entirely packaged in a shipping container. During the day, the container unfolds so as to charge multiple battery packs using solar power. These battery packs are fully transportable and can be taken to the point of need to provide a flexible and innovative source of electricity – this particularly rings true for communities located in the rural parts where, in most cases, the areas are not electrified. In ordinary domestic scenarios, the battery packs can power small electrical appliances for a period of three or more days; appliance dependent. Add to this reduced deployment times and costs as a result of there being no cable connections and the challenge of theft is simultaneously solved.
A renewable electrified free-from-theft solution
The solution can be viewed as a kiosk providing alternate energy that is designed for optimised functionality and maximum portability. All assembly takes place off site and can be deployed with a simple offload and a quick unfolding of the panels toward the sun. Implementing the SolarTurtle affords communities to sell electricity by 'the bottle' (a recycled plastic bottle is cut in half and a battery inserted into it – these bottles are brought back to the SolarTurtle unit for rechargin). The lid is converted into a 12V cigarette lighter-style socket, giving communities the opportunity to build and maintain their own battery packs. In addition, SolarTurtle can provide micro-grid connections to power schools and businesses – these are delivered by truck as a turnkey 'electrification plant'. This solution is a fold-away solar PV system that can provide 300 households with basic electrification while preventing theft. This plug-and-play solution comprises solar panels, batteries, charge controllers and consumer connections – that are all locked away making stealing an almost impossible task.
With no onsite infrastructure or technical skills needed to build or operate the system, customers can simply walk-in and buy a bottle of electricity for use at home. For customers who require a bigger load of power, solar home PV kits.
Empowering the community
SolarTurtle empowers women entrepreneurs to operate the suite of solutions so as to open a participatory platform for them to be part of the value chain of clean and affordable energy to off-grid schools, clinics and individual households. The solution is deployed using a franchise model to those off-grid institutions and managed through prepaid meters.
The solutions include:
SolarTurtle – the solar kiosk
This is a micro-utility geared towards the less fortunate communities using the solar battery charging station design.
PowerTurtle – the solar container
Super secure solar electricity solution in a box. Ideal for customers who need power for their offices, shops or clinics.
SolarTurtle was a runner-up in the Siemens Empower People awards (2016) in Berlin, Germany as well as the SEED award winner in Nairobi, Kenya.