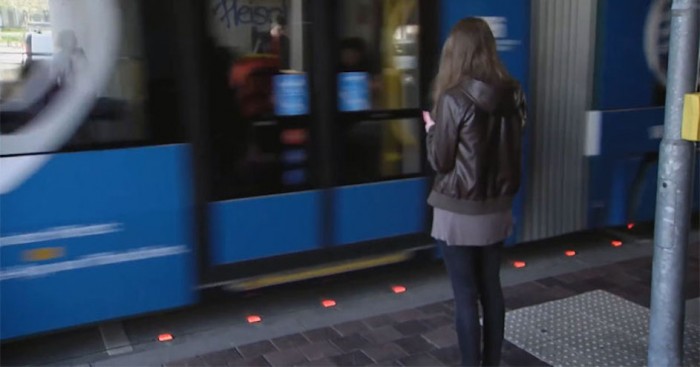 Walking with your eyes glued to your phone is considered by some to be just as dangerous as texting and driving. In New Jersey, a stateswoman is trying to pass a bill that prohibits what is referred to as "distracted walking" with a serious fine or even jail time. She bases her argument on a statistic that reveals that over 10 000 injuries were caused by distracted walking between 2000 and 2011. Similar bills have been put forward in New York and even in Hawaii. At the same time, the German city of Augsburg is trying a different approach by embedding traffic lights in the pavement at road crossings.
The city began installing the floor lights this year in response to a tragic local accident that involved a young girl who walked into an oncoming tram because she was distracted by her phone. The idea behind the lights is to attract the attention of pedestrians who never look up from their mobiles while walking in the streets. Just like regular traffic lights the LED pavement lights signal when to go and when to stop by flashing red or green at road crossings and train tracks.
There are mixed feelings about the new light instalments in Augsburg. Some feel that it is a smart solution to a growing safety concern while others complain that the lights are a waste of taxpayers' money. City spokeswoman Stephanie Lermen feels that the new lights are necessary additions to ensure the safety of commuters.