The Great Mosque of Djenne, which sits in the middle of this Malian town, surrounded by 200 homes can accomodate up to 3000 worshippers. The mosque is a world-renowned architectural icon. It towers over the town and can be seen from far away.
It was listed as a UNESCO World Heritage site in 1988, although it was built in 1907. The mud architecture of the town itself dates back to the 14th century.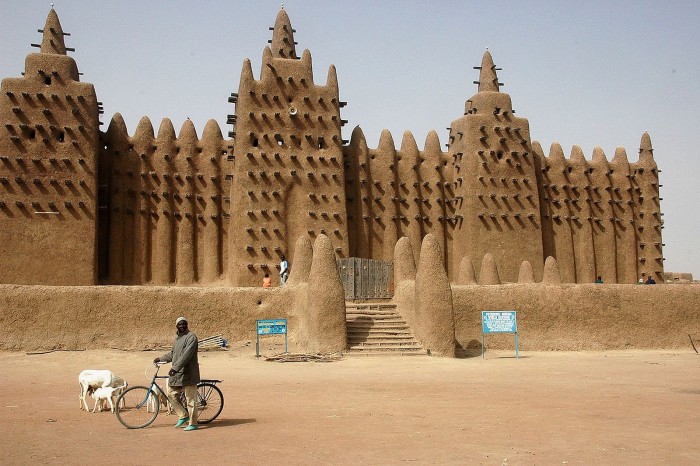 The buildings are created by masons who pack mud and straw into bricks that are then dried in the sun before being stacked together to create walls. To create the smooth finish on the outside, another layer of mud is then stacked on top.
Mud architecture is a skill that is passed on from generation to generation. Every element in the town's architecture has a usefulness beyond mere decoration. For example, the wooden poles that poke out of the sides of the buildings are used instead of ladders to make it easier for masons to climb up and down the buidings during construction and reconstuction.
Every year the replastering of the mosque forms part of a big celebration. A date is announced and people come from neighbourhoods far and wide to participate, whether it is through fetching water, helping to make the mud bricks or the actual plastering.
In the film,The Masons of Djenné five masons talk about their work as well as the history of the town. The film was created for the exhibition "Mud Masons of Mali", which was held at the Smithsonian's National Museum of Natural History.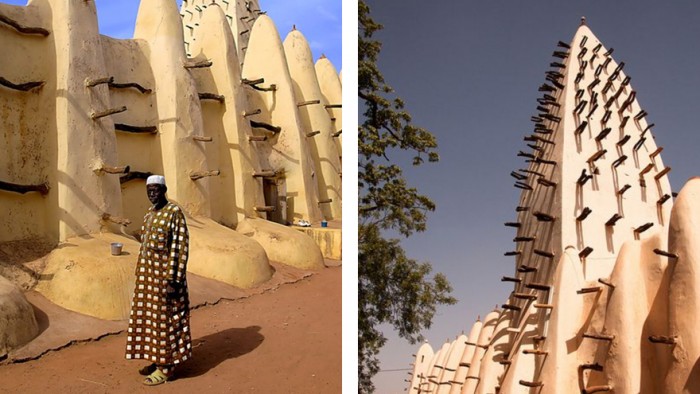 The masons also speak about when the Aga Khan Foundation began doing restoration work on the mosque. Part of the reconstruction process involved stripping away some layers of the mud, accumulated over centuries, from the building.
Says one of the masons interviewed in the film: "In the past the mosque seemed really big. Now it looks thinner. The mud of the walls was thick.. they took it all away. Putting that mud back on could make it beautiful, the way it was before. If you ask us, you could say they did it in a European way, it's no longer the African way."
Part one of a four part film series created for the exhibition, Mud Masons of Mali. Djenné masons speak of the history of city, its founding myth, its architecture and the role of the masons in maintaining this architectural legacy. The masons also speak about the importance for the community of the annual ceremony of re-plastering the Great Mosque.
More on architectural design:
On building a disappearing city in the Moroccan Sahara
Somali Architecture students are stitching back the country's heritage digitally
Swedish clinic designed with the country's refugee population in mind