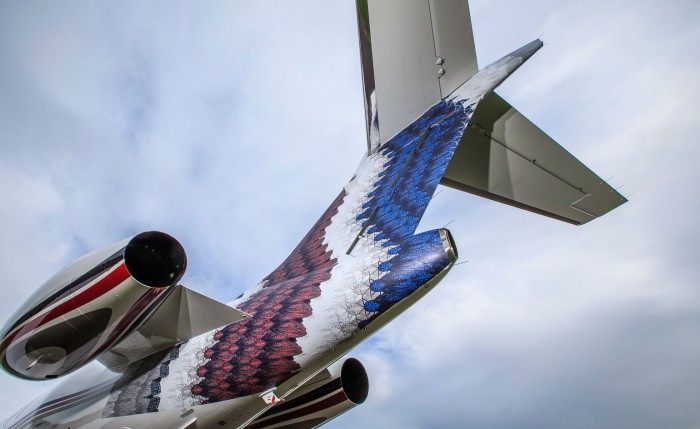 Timorous Beasties for NetJets.
The design duo behind the British wallpaper and fabric house Timorous Beasties, Paul Simmons and Alistair McAuley, are well-known for their darkly humorous floral wallpaper and fabric designs. Now the pair have turned to flying fauna for a rather unusual commission: the design of a tail-wrap for private aviation company NetJets' new Challenger 350 jet.
The obvious choice would have been birds or butterflies, but the duo elected to use a moth – an ode to what they call "a lesser recognised but equally beautiful insect" that they often incorporate into their fabrics and wallpapers. The striking design uses NetJets' trademark colours of blue, red and white to create a chevron pattern of the insect. The design gets its three dimensionality from detailed shading and small breaks in the colour that allows the plane's metal to shine through.
NetJets tasked Timorous Beasties to produce a striking design synonymous with the company's strong involvement in design and art. The aviation company has had a long commitment to the arts through its lengthy partnership with Art Basel.
Each year, the aviation company hosts a private six-day VIP event at Art Basel that included previews of some exhibits before the main festival opens to the public. For the 2015 event NetJets wanted to celebrate 12 years of working with the art fair and unveil its new Signature Series Challenger 350 jet by using it as an artwork.
The moth design took the Timorous Beasties designers two months to create and 10 hours to apply to the aircraft.