"There are so many needs people have that can be solved by the incredible computers they have in their pockets all the time — their smartphones," says Thunkable CEO and co-founder Arun Saigal.
Saigal and his partner WeiHua Li founded Thunkable in 2015 at the Massachusetts Institute of Technology (MIT) in the United States. Since then, more than 1.5 million mobile apps with around 16 million monthly active users have been created on Thunkable — and they were all built without writing a single line of code.
"For us to be able to turn them [smartphone users] into active creators has been an incredible experience," adds Saigal.
Using Thunkable's intuitive drag and drop system, users have designed apps to do things like educate, entertain, and turn a profit. Popular apps on the platform include a highway alert system for roadways in Thailand, an app that helps Iraqis learn English, and a dice-rolling app that's been downloaded more than half a million times, according to MIT News.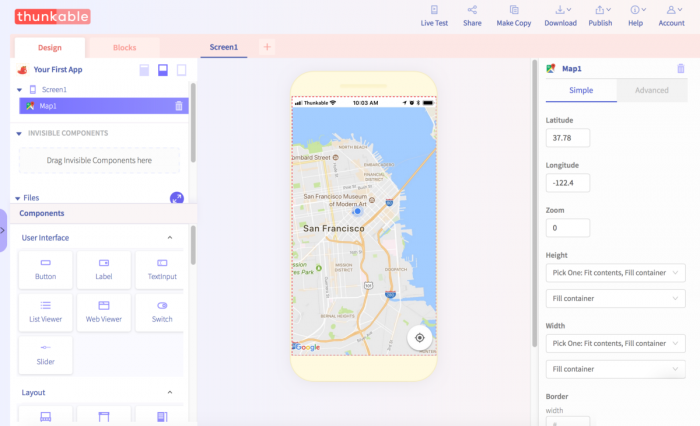 An example of Thunkable's user interface | Image via Thunkable
The pair attributes their success to audience engagement. Thunkable's ever-growing online community suggested new additions as the tool grew, and its creators paid attention. Saigal and Li slowly added features users were asking for new design options, and later monetization capabilities through integrations with ad engines and the payment service Stripe.
They've added a steady stream of features to the platform such as speech to text, Google Maps, and Microsoft AI. They also released a platform called Thunkable ✕ that allows users to build mobile apps that work on both Android and iOS.
Tools like Thunkable are a powerful way to give people agency. A compelling example of this is Yemeni resident Anwar Al-Haddad.
Large portions of Yemen's electrical grid had been knocked offline during the ongoing war. Al-Haddad saw that while thousands of people were turning to solar power for their homes and businesses, operating individual solar systems wasn't intuitive or easy.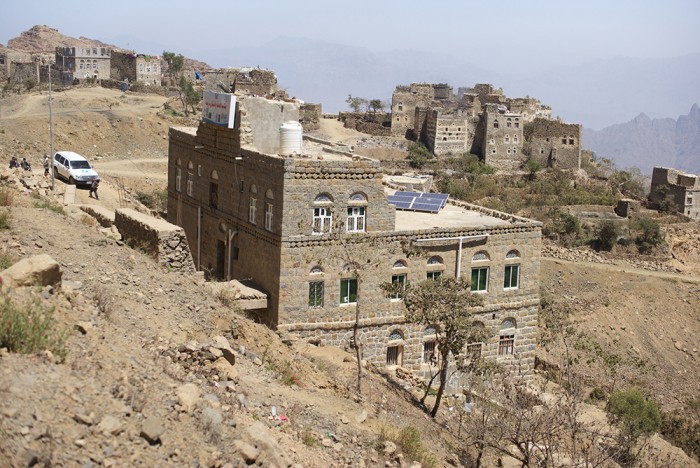 Solar panels on Raymah Health Centre, Yemen | Picture by: Julien Harneis
So he built an app using Thunkable that explains where to buy solar panels and how to install them. Users can even control the tilt of their solar panels through the app, based on the position of the sun. Since its launch in 2015, the app has since been downloaded hundreds of thousands of times.
Saigal believes mobile technology will only realise its full potential for helping people when anyone can build an app to solve their problems.
"I'm a software engineer, and [before Thunkable] I could only solve one problem at a time," Saigal says. "But what's so fun for us is, by building the platform, we're enabling people to solve their own problems in their own communities that we don't even know about. We're giving folks the power to change their lives, and allowing millions of problems to be solved simultaneously by the people closest to those problems. That's why we're so excited about this."
More on democratising technology:
Can democracy be saved by crypto politics?
Friends forever – until the connection drops
Inclusive AI can be both good and bad, says the Poet of Code