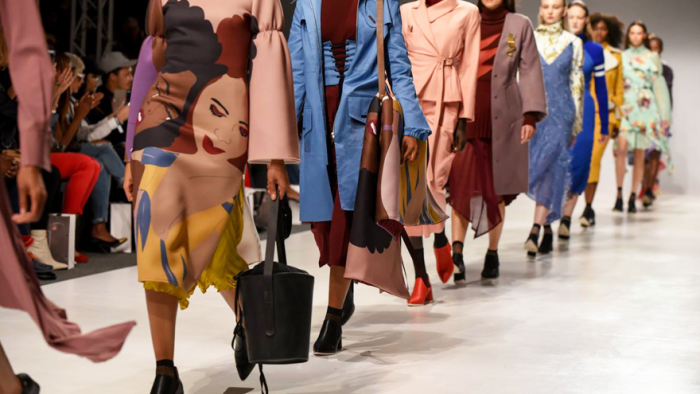 Former Emerging Creative Thebe Magugu has long championed the strength of the modern South African woman through his fashion creations. In his newest autumn/winter collection dubbed Home Economics, the Johannesburg-based designer continues the conversation with commentary on the unspoken yet silently enforced expectations put on the majority of women to become the ideal homemaker.
Having debuted at South African Fashion Week 2017, Home Economics features Magugu's signature blending of disparate style concepts such as masculinity and femininity, tradition and experimentation. Though Magugu's level of craft speaks for itself, his work has moved to a more socially aware space – Home Economics was born as reactionary commentary on the current political climate in South Africa and abroad, using the largely female-slanted high school subject of Home Economics as an encapsulating symbol.
"Women who assert any sense of self-government are always seen as a threat to be stifled, stemming from the damaging fear of the feminine – that's why they can be discredited as problematic or discarded in their field," says the designer, "This collection is commentary on that – references about homemaking & consumerism communicate ideas of expectation and disposability."
Magugu's treatment of the subject extends even to the colour palette and patterning of the garments. His choices were made to represent the cleaning materials often found beneath the kitchen sink and the visual effect acting as a metaphor for the caustic attitude that fiercely independent women are sometimes met with.
"The colours remind one of chemicals that reacted badly with one another – magnesium purples, high-in-alkaline pinks with sulphuric brightness."
Though the subject matter of Home Economics has a more serious undertone, Magugu maintains that optimism makes the look. It is the strength of the female figures in his own life that he celebrates through his work and urges others to celebrate within their own lives. As a natural evolution from one collection to the next, the designer creates a narrative of a woman who passes through multiple stages of life, one garment at a time.
"There is a subversive beauty made from the very difficulty that she experiences in today's socio-political climate. In the last summer/spring season for Geology, she clicked out to escape into the wild. Now she's back, aware of herself, her environment, and her relation to it," says Magugu, "This is a woman making do with what she has been dealt and not letting it diminish the undeniable autonomy she – and every other woman – has."
The runway debut of Home Economics saw the collaboration between Magugu and another former Emerging Creative, Gillian Lawrence, whose jewellery festooned each model and gave the outfits a more complex character. According to him, "Lawrence's brand, LORNE, gave the collection an added dimension with incredible pieces which seem to feel both fragile yet sturdy, masculine yet feminine, quaint yet intimidating."