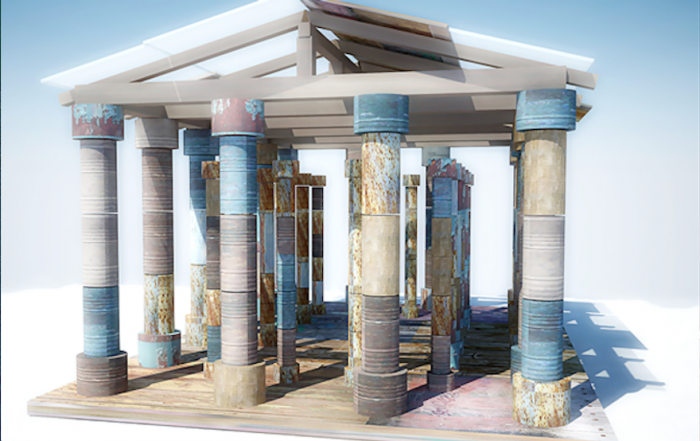 Temple is a place of worship that is not tailored to any particular religion.
Moscow design duo Kirill Bair and Daria Lisitsyna have designed a place of worship made of oil drums and recycled material. Based on the style usually associated with ancient Greek temples, the duo's structure is not tailored to any particular religion. Instead, it is described as "a form without content, a place of worship connected to nothing but the wind."
Called Temple, the structure is one of six winners at The Forks' annual huts design contest in Winnipeg, Canada. The competition, Warming Huts: An Art + Architecture Competition on Ice, was founded in 2009 and is used to combine world-class design and art with Winnipeg's famous winters.
Towards the end of January, the six winners will begin construction on their Warming Huts. Within one week, the designers watch their creations come to life while the public watches them work.
The Warming huts are then brought out to the Red River Mutual Trail for visitors to skate to, interact with, and enjoy. The structures will remain out until the end of the skating season.
Describing the philosophy that informed the design of Temple, the competition's website reads: "It is possible to build a temple and worship all that is connected with it. At the same time, some choose to worship things that have no meaning without a temple."
"Here, you can hear buzzing noises and metal pipes inside when they knock against each other. This Temple is a form without content. A place of worship connected to nothing but the wind. But do we choose to worship or not? We often forget about our true values and what this replaces."