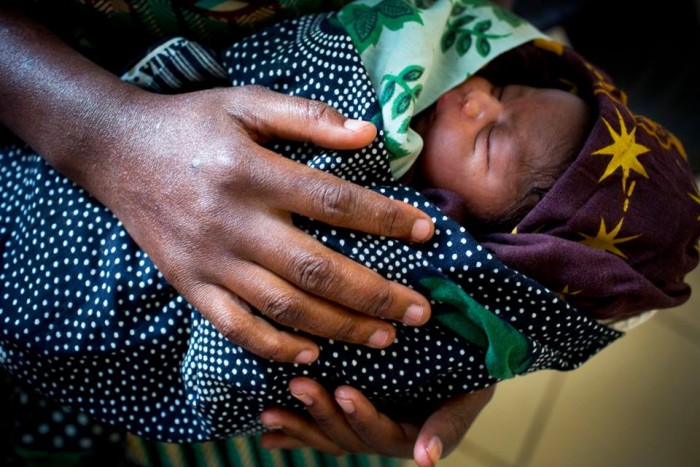 Tanzania has the second-lowest rate of birth registration in the Eastern and Southern African region. Image: UNICEF/Kate Holt.
UNICEF estimates that in Tanzania, only three per cent of rural children and 22 per cent of urban children under the age of five have a birth certificate. The national rate is 16 per cent, meaning that Tanzania has one of the lowest rates of birth certification in Africa.
Home births occur frequently in the country, and the birth registration is low because parents would have to travel into town twice: the first time to register the birth and the second time collect the certificate 90 days after registering a birth. For most families, the travel costs involved and the fee for a birth certificate makes registration prohibitively expensive.
The Tanzanian government has rolled out a nationwide program to register births by mobile phone. The new system allows a health worker to send the baby's name, sex, date of birth and family details by phone to a central database managed by the Registration Insolvency & Trusteeship Agency (RITA) and a birth certificate is issued free of charge in a matter of days.The application is designed to work on all mobile phones and only requires mobile coverage to send and receive data.
Registering every child's birth is vital because it allows the government to better plan basic infrastructures such as access to healthcare, education and justice. Birth registration also helps protect children from exploitation such as child labour, child marriage, and trafficking.
The program was launched two years ago in collaboration with Tigo, a local mobile phone carrier, and UNICEF. With mobile phone penetration in Tanzania standing at 73 per cent, using text to register births is an effective strategy.