An early scene in Marvel Studios' Black Panther sees Michael B. Jordan's antagonist Erik Killmonger standing before a selection of encased African artifacts housed inside a fictional Museum in Britain. After a few moments, the museum director approaches, offering to tell him about the works. He contradicts her tales, informing her that what she thinks was made by the Fula tribe in Benin is actually from Wakanda, his homeland. Just before poisoning the director and making off with the stolen valuables, he tells her, "Don't trip—I'm gonna take it off your hands for you."
Though Killmonger may only exist in the movies and on the pages of graphic novels, his position on the repatriation of stolen African art is not an uncommon one. Writing for the Hopkins Exhibitionist, Johns Hopkins' online museum journal, Casey Haughin's essay, Why museum professionals need to talk about Black Panther, openly acknowledges spaces like the British Museum as illegal mechanisms of colonialism that are barely welcoming to those whose cultures it has pillaged for display.
As this crucial conversation has begun to shift in mainstream dialogue, it appears that some are becoming more open to the idea of repatriation. Last November, French President Emmanuel Macron declared his desire to see the repatriation of African cultural heritage held in French museums as long as France set the conditions. In early 2018, London's Victoria & Albert Museum responded to a 2007 claim by Ethiopia asking that the UK return ancient artifacts and manuscripts taken in 1868 during the capture of Maqdala by suggesting a long-term loan.
But according to Ethiopian curator, cultural anthropologist and founder of Addis Ababa's Zoma Contemporary Art Centre, Meskerem Assegued, there is only one way we should envision the appropriate repatriation of African artifacts: "The work needs to be returned without any kind of conditions and without any questions asked as to how it is going to be handled," she states.
Having curated numerous exhibitions and events both in Ethiopia and abroad, Assegued has acquired an intimate and thorough knowledge of the kind of innovative and radical art that is coming from practitioners on the continent today. She has long been passionate about the idea of creating a space in one of the centuries-old, abandoned buildings scattered across Ethiopia where African artists could experiment with and show their work. So she founded Zoma in 2002.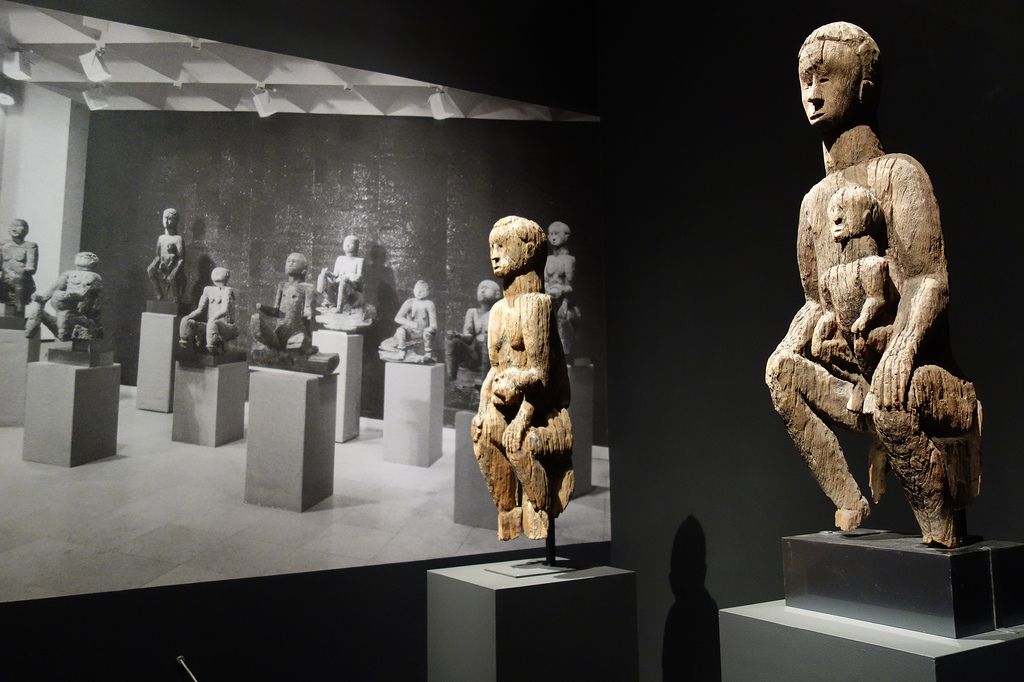 When it comes to the possibilities of stolen artifacts being returned to where they were taken from, though, she's understandably skeptical. "Is Africa now going to become responsible for these items and have to deal with the issues of how it is going to be stored, how it is going to be protected and who is going to fund it?" Putting this responsibility upon the backs of the people it was stolen from, she tells us, is not right.
Her words echo those of Sylvester Okwunodu Ogbechie, a professor of art history and architecture at the University of California, Santa Barbara, who spoke to Artnet news of Macron's declaration that France would set the conditions for the return of certain African artifacts. "It is completely and arrogantly wrong to imagine that France should have the last word on what constitutes safe conditions for managing these artifacts," she says.
Assegued also laments the damage that the curation of these artifacts in separate 'African sections' of European museums have had and how this system has been instrumental in the construction of widely held Western stereotypes around the African continent. The curio art that was taken hundreds of years ago, says Assegued, was selected to contribute to a very specific depiction of Africa.
At the heart of the issue of art repatriation, though, is the question of power. While equity and the upholding of honest histories ought to be the true goal, museum directors are likely concerned that the return of certain pieces could lead to a ripple effect of requests like this. To acquiesce would undermine a perceived authority these institutions have spent centuries working to establish.
But this doesn't mean that repatriation is impossible. In 2015, several museums in the United States turned over dozens of stolen Indian artifacts sold to them by a dealer in antiquities. More recently, in 2017, the British Museum began engaging in talks to return a number of stolen Benin City bronzes to Nigeria and Benin, and from whatever position you look at it, this is a positive step toward addressing the tense relationship between these institutions and the cultures they purport to represent.
"I don't think that African nations should get too excited about this talk as of yet, that's my view," concludes Assegued. "What I do fear is that this issue will perpetuate this conversation of 'us and them', which we know can be an endless battle. If work is returned to Africa, it has to be negotiated so that Africans can do whatever it is they want with it, and not be put in a situation where we again have to defer in our response."
What to read next:
Wacy Zacarias on taking back the African textile market
Nigerian artist Dennis Osadebe on isolation, the future and African art