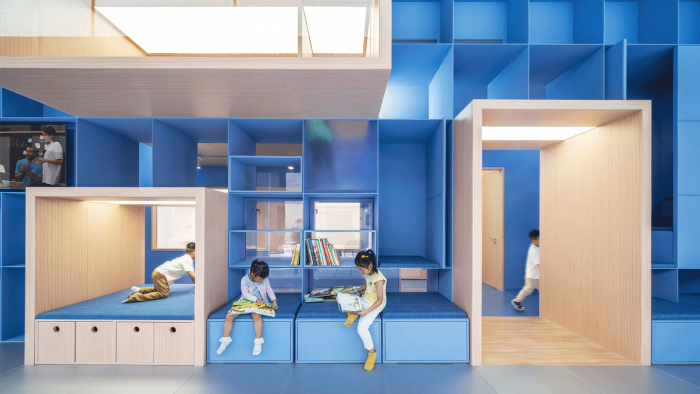 As learning goes online across the globe, one of China's most successful online learning platforms, Qkids has bucked the pandemic trend and reversed out of the purely virtual into the physical realm.
Qkids, which teaches English online to about 800 000 students, has blended its previously online only learning process with a bricks-and-mortar learning centre for offline teaching.
The newly developed two-story space was led by Beijing-based firm Crossboundaries who were in charge of tailoring the space to fit specific needs.
"Expanding from successful online to offline teaching, the client considered it very important to provide a comparable stimulating environment for its customers with the aim of delivering anything but just a traditional classroom experience," reads the project description.
The new learning center is adapted to host diverse functions for different audiences, at various times of the week. Crossboundaries revealed that flexibility was an important attribute for the space to host.
"Flexibility in time and space - so that the center can cater for various functions, whilst it becomes an enticing, flexible and fun educational space and expresses the overall Qkids brand philosophy."
Hao Dong, Founding Partner of Crossboundaries added: "We had the challenge to create a unique space that expands Qkids' successful online teaching experience to a real-life scenario, by naturally integrating different age groups and parents' demands."