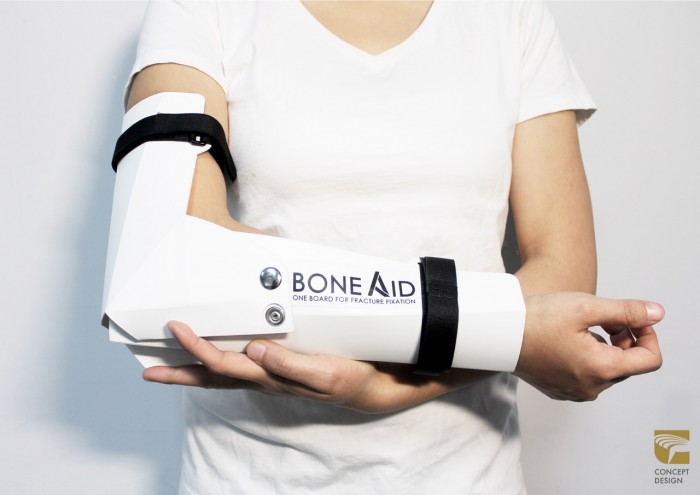 Taiwanese designers and students from Tunghai University, Yu-Chi Wang and Yu Man's bone fracture fixation board - BoneAid
Taiwanese designers and students from Tunghai University, Yu-Chi Wang and Yu-Man Huang, created a medical assistive device that would come in handy in situations such as natural disasters.
BoneAid is a multi-purpose portable fracture fixation board made to reconstruct bone injuries in different body parts such as hands, knees and arms. BoneAid is more flexible in comparison to the majority of fixation boards that focus solely on one specific body part. The lightweight polypropylene board was designed specifically for emergency requirements in case of disasters.
Lo Ji-hong, an assistant professor in the Department of Industrial Design at Tunghai University said that BoneAid could bring about positive change in disaster zone management. The fact that it's easy-to-store enhances the efficiency and quality of medical treatment. The fixation board is quick to setup and easy to use in a tear up, fold, button and strap form, estimated to take a user less than one minute. It is an affordable and efficient product.
Yu-Chi and Yu-Man have won several awards for their invention as well as getting nominated in the Product Design Category at the 2017 Design Mark for the Golden Pin Concept Design Award.
Yu-chi Wang said, "Recognition and encouragement like this will fuel our passion in the area of product design and motivate us to ensure our designs make contributions to society."
Read more:
Northumbria design for industry graduate Callum Smith recently won the RSA Student Design Award for his design FrailTea, a kettle that collects grip data to help monitor the health of the elderly. Early identification of frailty can help tailor care plans and daily grip statistics give an accurate guide to a particular individual's health status.