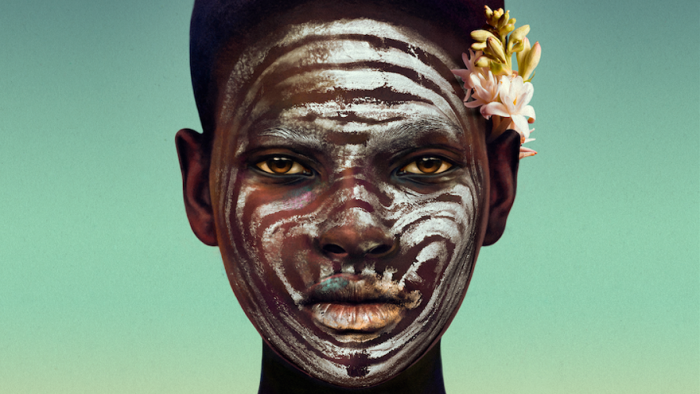 Felipe Bedoya is a visual artist based in Bogotá, Columbia. He is a painter-cum-digital illustrator, creating emotive portraits that seem almost photographic in detail, yet feature subtle elements of abstraction that point to deeper meaning. In this series, O.M.O. (named in reference to the inhabitants of Omo Valley, a region of southern Ethiopia), Bedoya navigates the concept of wearing masks and traditional body art as a form of nonverbal communication.
Bedoya's art is informed by his love for North African culture. He often chooses African figures as the subject of his artworks. He explores ritualistic behaviours that are distinct from his own Columbian upbringing. He also looks at how other cultures treat the subject of identity in artistic ways.
"The characters you see do not exist, they are fictitious. The idea is to annoy the viewer and to incite questions about how real what he/she sees is," explains the artist regarding the effect of his detailed painting style, "For these people, the brilliance in their look, the way they live, the marks and lines on their bodies – these things become their fingerprints and denote their belonging."
O.M.O. depicts different non-gendered figures with facial art seemingly painted onto the face by hand. Though body art of this nature is often associated with tribal practices, Bedoya's high-tech method in creating them open up questions regarding the western world's own ways of identification through cosmetics. Each painting, which normally starts out as conventional oil paint on a canvas before it is scanned in and taken to a different level with digital painting techniques, has become a kind of cathartic conduit for him as someone who suffers from social anxiety. Ironically, his portraits have a directness without words, a kind of expressive communication.
"I'm not a person who looks others in the eye a lot. I'm rather shy and reserved. Instead, my characters face the viewer. This contrast makes me feel that I speak through the images with a language that I cannot convey in real life."