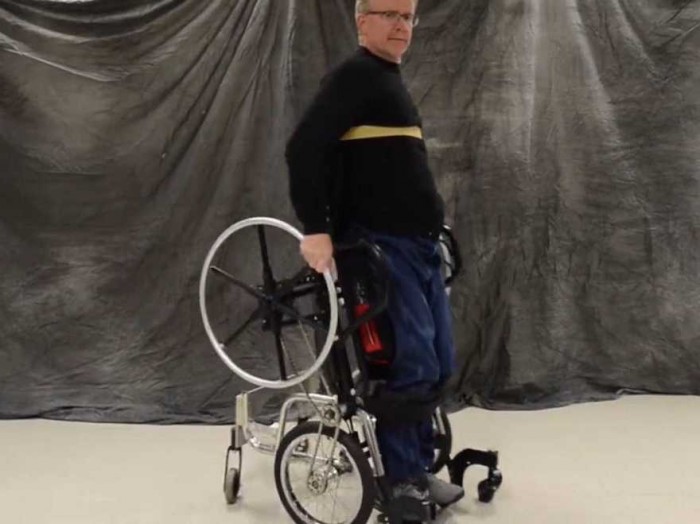 A team of rehabilitation engineers and doctors at the Minneapolis Veteran Affairs Hospital recently developed a prototype of a standing wheelchair, funded by the Paralyzed Veterans of America. The invention helps paraplegic patients expand their functional reach and enjoy increased productivity and mobility in everyday activities.
Led by Dr. Gary Goldish, the project improves on earlier standing wheelchair designs by including a four-wheeled platform into the design and separating the push rim from the tyre.
The four-wheeled platform distributes equal weight at the front and back of the wheelchair, providing greater stability for users. To adjust the chair from a seated to standing position, the user simply presses down on the armrests, activating the built-in gas spring that pushes the backrest and the seat upright.
This spring action also lifts up the modified push rim wheels: "We modified it by adding a drive wheel that separated the push rim from the tire," Goldish said.
This modification means that push rim can be accessed in a standing position so that the movement feels similar to wheeling when seated.
The mechanism is similar to adjusting the angle of a car seat, which allows the user to adjust the wheelchair to his or her preferred angle and in a gradual motion.
Not only does the new wheelchair improve the mobility, productivity, and reach of paraplegic patients, it also helps improve bone strength and reduce pressure sores caused by remaining in the same position for too long.