As part of its rebranding as Snap Inc., Snapchat recently revealed a host of updates. A major component of this is the company's first foray into hardware design with their development of a camera-equipped pair of sunglasses called 'Spectacles'. Expected to retail for an affordable $129 each, the wearable tech is an extension of Snapchat's ambition to become the default camera option for its users.
Built by Steve Horowitz, the mobile product veteran and former engineering SVP at Motorola, the Spectacles are designed to connect to ones smartphone, enabling easy video sharing. Based around one of Snapchat's core features, Memories (which allows you to save videos and pictures directly to an in-app based camera roll), snaps acquired via the glasses are wirelessly added to this database of content.
Available in 3 colours – black, teal and coral – the Spectacles are fitted with a wireless video camera that is easily activated by tapping the frame. A small circle of LED-lights in the top left corner illuminates upon recording, notifying friends and others around you that you're in the midst of 'snapping'. Able to capture a day's worth of snaps on a single charge, they recharge via a specially designed accompanying case.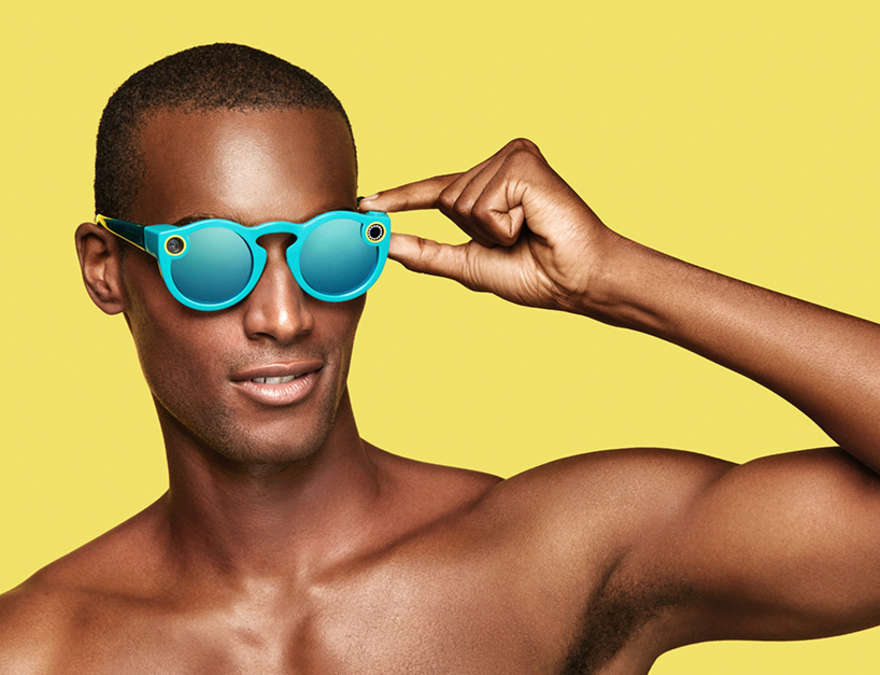 While some have expressed scepticism of the move and have drawn comparisons to the disappointment that was Google Glass, Snapchat's transformation of what many assumed would be a fad into a proven and enduring means of social communication should warrant them the benefit of the doubt. The company's new venture already has one thing going for it: the Spectacles look far less impractical than the sea of versions that have preceded it.
Snapchat's overall success has long been tied to its unique aspect of human perception. The ephemerality of posting imperfect videos and pictures that later self-destruct feels natural – like a real-life conversation – and the introduction of the glasses adds another dimension to it. The video they record is circular – like human vision – and the snaps produced play full screen on any device, in any orientation, capturing the human perspective with a 115-degree field of view. Removing the barrier between the user and the action, the glasses enable more immersive experiences for members of the always-plugged-in generation.
The app – which now boasts 15 million more users per day than Twitter – continues to dominate amongst younger audiences and Snapchat hopes the massive buying power of the millennial market will mean success for their gamble. Still, CEO Evan Spiegel is treating the move cautiously, producing a limited number of units to start. "We're going to take a slow approach to rolling them out," he told The Wall Street Journal. "It's about us figuring out if it fits into people's lives and seeing how they like it."