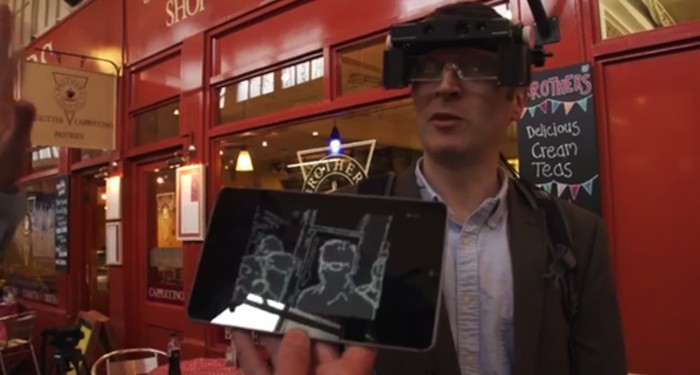 Smart Specs showing the projected images seen by the wearer.
The idea behind the futuristic-looking Smart Specs is to enable people who are legally blind or left with very little vision to see objects. They don't replace lost sight but make use of residual vision.
Hicks and his team partnered with the UK government and a British charity for the blind after early prototypes showed promise. The team won an award, was subsequently given funding from Google to continue their research and have designed the most compact prototype yet.
The glasses consist of a mounted three-dimensional video camera on an oversized frame and an Android computer-processing unit that is small enough to fit into the palm of your hand or a pocket.
The difference between normal glasses and Smart Specs is that your brain isn't processing what you see, images are being projected to you. Softwarein is a processor that projects simplified images of objects to the lenses of the glasses. The software eliminates the distracting and inconsequential background and highlights important objects in the immediate vicinity.
The images are so simple that all the wearer will be able to make out are black and white lines from up to three metres away in the form of almost cartoonish shapes of the objects around them. They are then able to determine, for example, if it is a lamppost or person that they are moving towards, or how many people are in a room. The closer a person gets to an object the brighter it becomes, offering useful depth-perception and warning the user of the object's proximity to them, as well as offering facial recognition. The video can also be paused or zoomed in to offer greater clarity.
Various prototypes have been tested over the course of a few years. In previous models shapes were more like smudges and while the wearer could see that there was an object nearby, they were difficult to differentiate from each other. The current model offers the clearest quality and even small shapes like a vase on a table can be "seen".
The new version provides a focussed central image, useful for enhancing details in nearby objects such as items on a table or people's faces.
The team from the Nuffield Department of Clinical Neurosciences has already won five awards including the 2013 Royal Society Award for Innovation. Smart Specs are undergoing volunteer trials and are expected to be available to the public in early 2016.