The latest architectural design by Frank Gehry has been unveiled – named Forma, the residential building in Toronto will be his tallest yet, at 73 storeys, and will make its mark on the city skyline. It will include a thoughtfully appointed lobby with a custom art installation.
Forma's design is intended to add new visual energy and movement to the Toronto skyline. The volumes of the towers and the spaces between them will change as people move around the site. This effect is enhanced by the choice of materials and the façade's geometry. The resulting visual fluidity becomes even more dynamic when the sun reflects on the metal during the day.
Gehry, a native of Toronto, wanted Forma's design to pay tribute to some of the city's landmarks. One particular source of inspiration was the old City Hall, with its imposing sandstone façade and grand lobby inspired by the Canadian artists of the Group of Seven. The strong connection between the natural landscape and the Canadian identity they captured so well in their works is echoed in the design of the building.
"Every city in the world has its own light, and the light is modified by the buildings in the city. I wanted this building to capture the essence of Toronto. It's not like everywhere else. The light is different. The heritage is different. It's a different place. I hope that is what people see when they look up," Gehry says.
The imposing east tower lobby features luxurious curved wood furniture and rich limestone cladding that contrasts dramatically with the stainless-steel exterior. A grand sculptural installation by Gehry's design team looms overhead, drawing the eye with its glittering maple leaf motif. Seen from the street, this expansive space makes a truly impressive statement.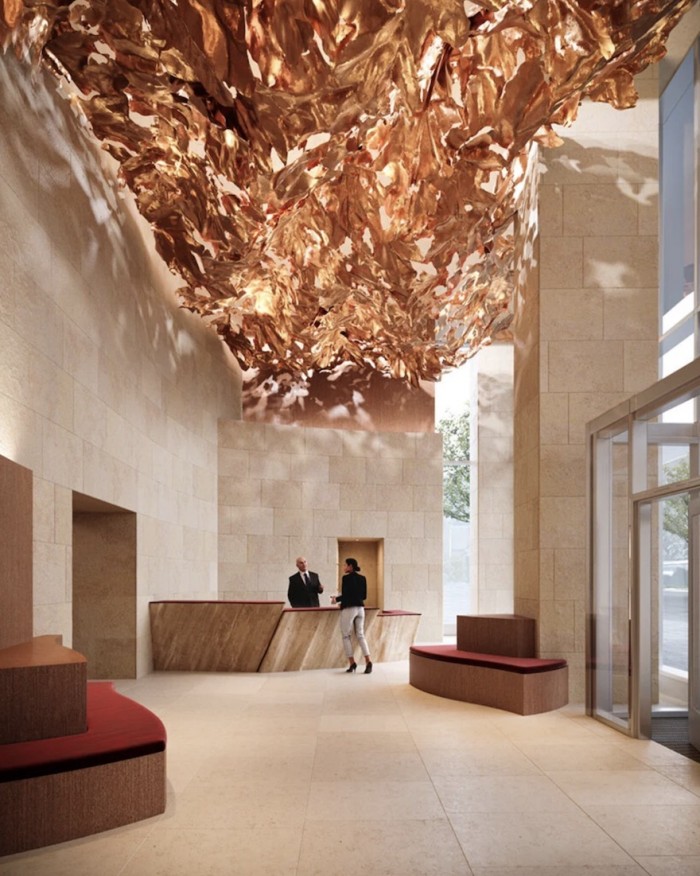 The two towers are connected by a series of canopies that alternate between stainless steel and glass. These canopies provide shelter for potential business tenants while maximising the public space with active street frontage.
Designing the interior of a building is often about creating different areas for different purposes. However, Studio Paolo Ferrari, responsible for most of the interior design, took a different approach to this project. Instead of grouping amenities in one area, they have spread them throughout the building, making them more accessible and intimate.
By strategically arranging spaces with similar purposes, the designers have created a more efficient and enjoyable experience for the building's users. The Grand Suite on the 73rd floor will be dedicated to hospitality and entertainment and offers panoramic views.
Read more:
Architecture's new wonder material.
Credits: Gehry Partners LLP