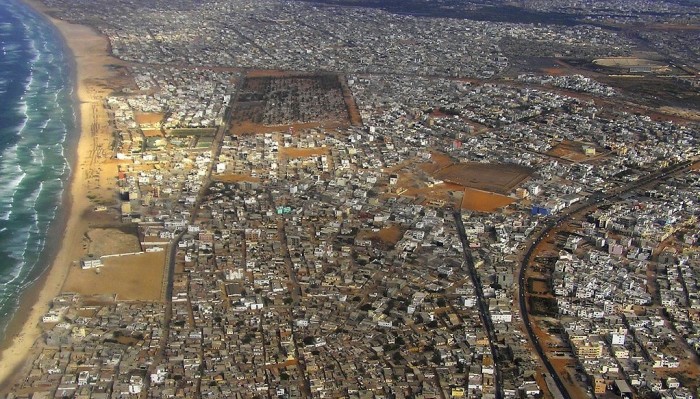 An ariel view of the urban sprawl in Senegal. Image: crisan.ro
The government of Senegal is drafting the blueprints for a new city near Diamniadio that's meant to ease congestion in the seaside capital, Dakar.
The plans for the city, called New Diamniadio for the interim, was developed to relieve the pressure of urbanisation on Dakar, which is home to almost a quarter of the country's 14 million people.
Designed by the French during their colonial administration, the urban planning of Dakar hasn't changed – the streets in the centre are narrow and can't cope with the amount of daily traffic in the city. There is no space for urban development such as housing and schools.
This plan to build a new city is one in a long line of mandates by President Macky Sall who uses the slogan "Emerging Senegal" to define his policy of luring in foreign investment to reduce the country's dependence on fishing, agriculture and tourism. Last year, Sall opened the first highway connecting Diamniadio to Dakar, as well as a conference center that hosted the annual summit of French-speaking nations.
Sall has also pledged to double economic growth by 2020.
New Diamniadio is expected to address the poor state of housing and real estate in Dakar. Real-estate prices are soaring with no end in sight, making housing unattainable even for middle class Senegalese citizens. The government of Senegal also has plans to establish an express train station linking Dakar to the airport under construction in existing city of Diamniadio.
Sall's plans for a new city aim to give Senegalese citizens more opportunities in housing, investment, and revenue.
The (old) Diamniadio, has a population of 30 000 people and is expected to expand tenfold by 2018.