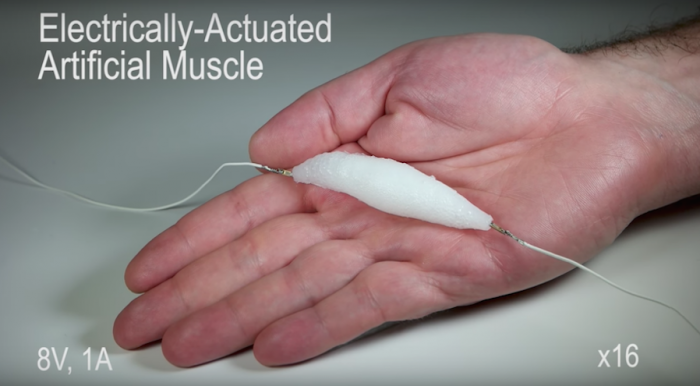 The electrically-actuated artificial muscle created by students from the University of Columbia in New York City
This 3D-printed artificial muscle can mimic the movements – the twisting, straining and pulling – of natural muscles, but unlike human muscle, it can lift 1000 times its own weight, say scientists at Columbia University.
"We've been making great strides toward making robot minds, but robot bodies are still primitive," said lead researcher Hod Lipson. "This is a big piece of the puzzle and, like biology, the new actuator can be shaped and reshaped a thousand ways. We've overcome one of the final barriers to making lifelike robots."
Apart from the fact that scientists can't stop making it easier for robots to overthrow the human race, soft robotics do hold promise in a number of areas. From healthcare to accident assistance, non-rigid robots with the ability to move untethered will be able to execute delicate tasks.
"Our soft functional material may serve as robust soft muscle, possibly revolutionising the way that soft robotic solutions are engineered today," said lead author of the study Aslan Miriyev. "It can push, pull, bend, twist, and lift weight. It's the closest artificial material equivalent we have to a natural muscle."
Once the artificial muscle was 3D-printed into the desired shape, it was electrically actuated using a thin resistive wire and low-power (8V). Tests revealed that it showed that it's able to expand by up to 900 per cent when electrically heated to 80 degrees Celsius.
Controlled by a computer, the muscle is capable of performing motion tasks in almost any design.