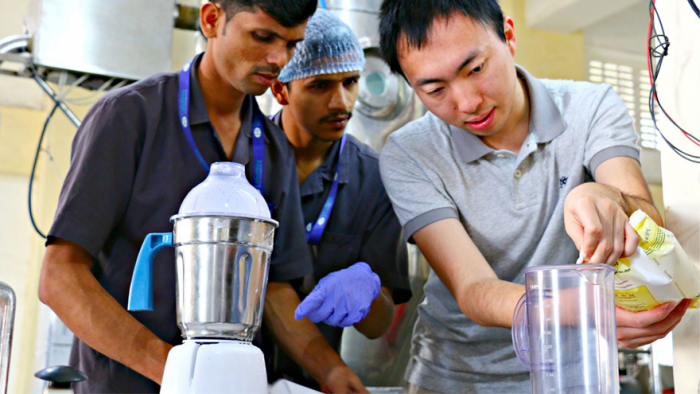 A team of researchers at the Tata Center for Technology and Design have been perfecting the formula of a special, potentially life-saving drink to tackle the problem of malnourishment in certain parts of India. The campaign, based in Mumbai, is spearheaded by Tonghan Gu, MIT Tata Fellow and chemical engineer. He hopes the recipe his team has devised will eventually make a substantial dent in the problem of malnourishment in children in rural areas.
"It often happens when children are moderately malnourished, and then some external factor, like crop failure or disease, worsens the situation," says Gu, "With good management, the fatality rate could be reduced to less than 5 percent."
Gu's work is based on an existing food-model that has seen success in famine-stricken parts of Africa where relief workers deliver high-calorie food mixtures to people who risk starvation. It is called ready-to-use therapeutic food or RUTF. These are supercharged emulsions, meant to put the patient back on track to good health by restoring fat with a concentration of nutrients and oils.
However, existing versions of RUTF have been unsuccessful in the Indian subcontinent due to local considerations such as water supply, cost and palatability for Indian citizens. The MIT team recognised that it is no good to distribute health-boosting food parcels in vulnerable communities if people (especially toddlers) find it difficult to eat.
"The biggest issue is that Indian children don't like to eat it," says Gu, "Peanut butter is not part of their diet, so the palatability is quite bad."
Using existing chemical recipes for ready-to-use therapeutic food, Gu and his team have created variations of the nourishing design tailored especially for Indian citizens. Where standard RUTF emulsions are made of milk powder, peanut butter, oil, and sugar, the new formulas include locally grown chickpeas and regional spices to mimic the food locals are already used to.
"We are trying to make something more like a milkshake. It's a mix of high-energy components, using local foods like chana dal [chickpeas]. We can even add spices to create different flavours. We've found that children really like the drinkable version."
Now, the team faces the challenges of mass-production and transportation, but Gu remains optimistic that their work will make a marked difference, "I think our formula gives children with severe acute malnutrition a better chance to get the nutrients they need."