New York-based artist Sarah Rosado grew up in the Bronx. She has always been passionate about art and creating and believes that her work is a true reflection of who she is and her world view. Rosado is a self-taught artist and her ideas often come from seemingly banal moments, such as eating cereal in the morning. She created a series of portraits out of cereal flakes, most of them famous musicians, and describes the process as being similar to rebuilding a broken puzzle.
How would you describe what you do?
My artwork and photographic pictures are an expression of who I am, what I like, what I don't like and my view on life. It is a digital imprint of my inner soul. However, to get a sense of who I am you have to look past the cute colorful and carefully crafted images, only then will you be able to get a sense of who I am.
I love anything that has to do with art and am always challenging myself in creating different styles of art form. I love variety and as such you will find a reflection of that in my art work. I am currently working on a new project, but I don't want to get into details because I wouldn't want to spoil the surprise...
Talk us through your process. Where do your ideas come from, do you work quickly or slowly and meticulously?
The idea for the cereal series came one morning while eating cereal and listening to oldies and R&B music. I thought "music never tasted so good" and the idea to create celebrity faces with cornflakes was born.
There's a lot of effort that goes into creating each one. The cereal has to be crushed into very tiny pieces for the special features such as the eyes, nose, mouth, etc. It's almost like working with a broken puzzle; each bit and piece has to have the right size to fit perfectly.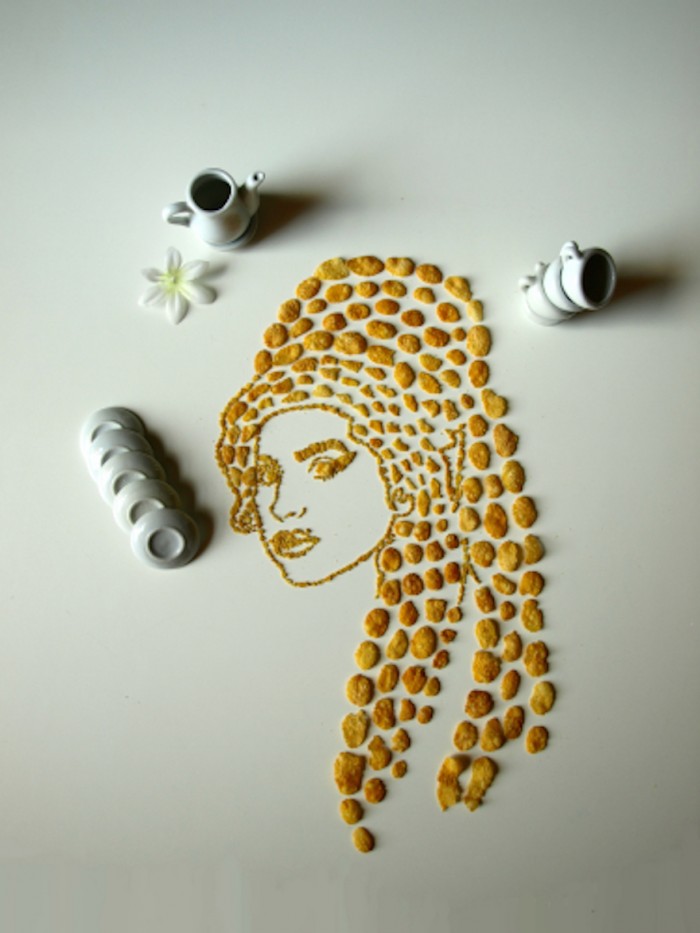 How do you describe your aesthetic?
There is something about bright colours that attracts the eyes. It is enticing. So I use a lot of color because I like it and I know viewers will like it as well. Once I get their attention they can enjoy the image for what it's worth.
Have you been creative all your life?
Yes, even at an early age I was interested in anything related to crafts and art. I was really good and the family always had me create decorations for our parties.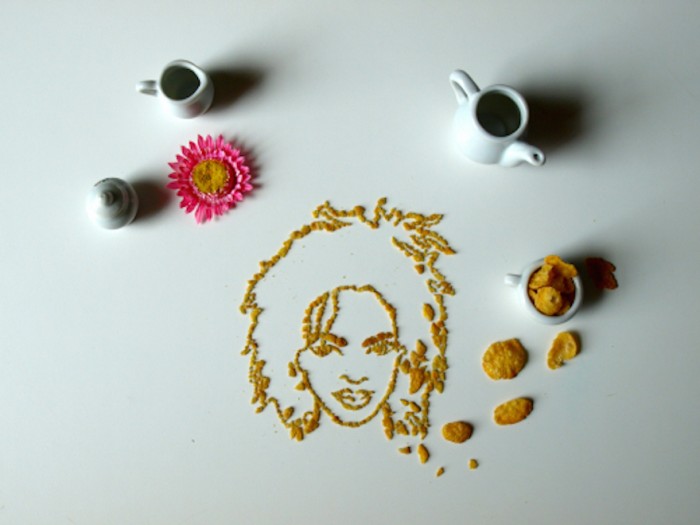 Who or what are your biggest creative influences?
My biggest creative influences have come from other artist who have used different types of items to create art, such as, nails, food, etc. That gave me the idea to create my Dirty Little Secrets series using dirt as a medium and my cereal art, which depicts celebrities.
Has being an artist changed the way you look at the world?
Yes, as an artist you are always looking to create and that urge has taken me places I would never have considered looking into; such as observing ants and watching how incredibly intelligent these tiny little creatures are and how they work and struggle to survive like us humans.
Whose work do you admire – any genre, any industry?
I'm inspired by different types of artists whose creativity takes them to another level. One such artist in particular, Queenie Liao, a mom, who creates amazing scenes around her sleeping child, was one whose work made me feel taken aback by her creativity.