Paris, France has a reputation as one of the world's most pedestrian-friendly cities. Despite an increase in traffic congestion, the capital includes a number of car-free areas for its city strollers. Famed Italian architect Carlo Ratti thinks this can be taken even further. "From Walter Benjamin to the Situationists artists, strolling has always been a quintessentially Parisian way to express the excitement of urban life… what if tomorrow we can start to stroll on the river itself?" asks Ratti.

Through the proposal of a floating fitness centre, the Paris Navigating Gym project gives Ratti's abstract idea a solid sense of tangibility. Initiated by his architectural firm, Carlo Ratti Associati, alongside fitness manufacturing company Technogym, the unique water-vessel will sail the Seine in Paris powered by electricity generated from the exertion of human energy.

"The Paris Navigating Gym investigates the potential of harnessing human power,' explains Ratti. "It's fascinating to see how the energy generated by a workout at the gym can actually help to propel a boat. It provides one with a tangible experience of what lies behind the often abstract notion of electric power." It's also a fun prospect of escape for fitness enthusiasts.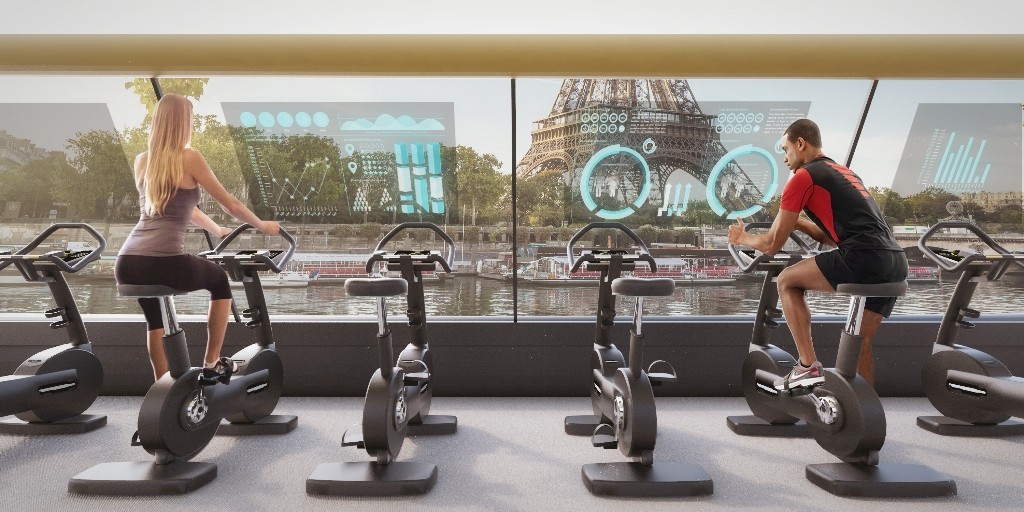 At 20 metres long, the "fitness vessel" will be able to accommodate up to 45 people on board at a time and will feature a distinct series of ARTIS fitness equipment. Fashioned after the beloved Bateaux Mouches ferryboats that have been carrying tourists along the river since the early 20th century, its transparent glass bubble design is both modern and nostalgic. Featuring an augmented-reality screen that displays real-time information, the design will also allow those using the ferry's facilities to keep track of their energy data and the outdoor conditions.

All exercise equipment on board the vessel would be connected to an inverter, which converts the energy generated by its users into utility-grade electricity. This electricity would power the boat's mechanics, generating energy to propel it. The electric propellers allow for long and enjoyable cruises along the river — enabling complete public use throughout the year.

Though it is unknown when exactly the gym will become operational, initial studies suggest that the Paris Navigating Gym can be implemented in less than 18 months— including its design, construction, and testing. If approved, its construction will serve as a reinforcement of the French capital's long-standing commitment to sustainability.