Like most video calls my interview with South African artist Mawande Ka Zenzile started with many hellos, static responses and broken connections. This rocky start, was simply that. Once a connection was established, the coversation flowed.
Ka Zenzile is popularly known for his use of cow dung in his art pieces. The use of cow dung links back to his childhood, growing up in the Eastern Cape. "It is a material that I grew up seeing. It has some kind of an aesthetical appeal. So, for me, putting it on a canvas was for it to take a different form. I always think of it as an evolution of cow dung. From domestic material used on the floors into high art," he says.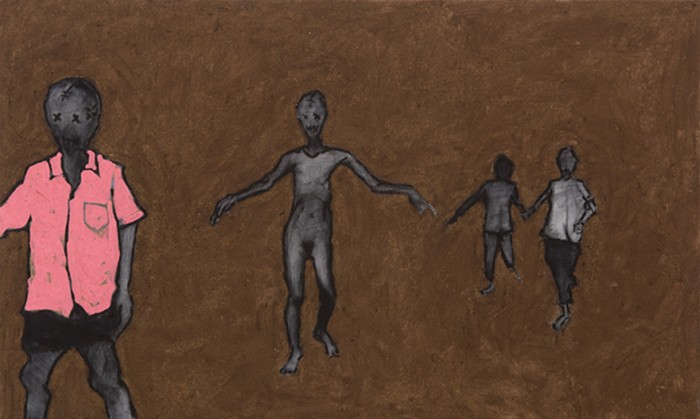 For most, the thought of cow dung is bound to conjure up images of the rural areas in which the great bovines roam free. Many villages in Africa, however, make use of cow dung in order to insulate their homes.
Describing what the cow dung first represented in his work and what it means now, Ka Zenzile explains, "It was a political statement at the beginning...trying to rebel against our notions of art. What we think is painting and what we think is not painting. Those questions were constantly in my head when I was at the early stages of using this material."
Today, being a lot more comfortable in the medium, the use of cow dung has transformed into more of a language for the artist. Instead of using the material to debate and create political statements, it now explores his ideas and investigates his questions about human nature, aesthetics, spirituality and knowledge as a whole.
For Ka Zenzile, his work changed over the years as a result of experiencing some life-altering events, which he is careful not to disclose. "I realised that I wasn't fully honest with myself. I wasn't really honest with the idea [art]. I wanted to engage with the popular conversations but at the same time that's not the nature of my practice.
So, I was liberated somehow…like being more honest with my own intuition…after those certain things happened, everything was so clear. Then the work changed," he shares.
Studying at the Michaelis School of Fine Art, University of Cape Town (UCT), he completed his MA in Fine Art. But for the unorthodox creative, his journey as an artist started long before treading the halls of UCT. "My journey began before coming to university, [before] studying art. I was already a practicing artist," Ka Zenzile admits.
His work tackles a great many topics from politics, popular discourse, issues on representation, esotericism and human nature. Taking the form of both paintings and sculpture, his work has been exhibited in galleries across the country as well as in Tanzania and Norway. In May this year, his artwork will trek across the Mediterranean to the 58th Venice Biennale and will feature alongside the works of Tracey Rose and Dineo Seshee Bopape on the South African Pavilion.
Speaking about his work for the pavilion, he says the text-based pieces titled Ubuza ibhasi ibhaliwe, "deals with the issue of perception and how we are being conditioned by our surroundings." According to the artist the pieces focus on two differing world views, one he describes as "a sort of Buddhist world view" and the other from a more African perspective.
The pieces are inspired by texts written by British-American philosopher Alan Watts and American anthropologist Marimba Ani.

Read more:
Navigating African masculinity in mixed media art
The whimsical illustrations of Monica Obaga
Alexis Peskine explores the black experience through unconventional mediums