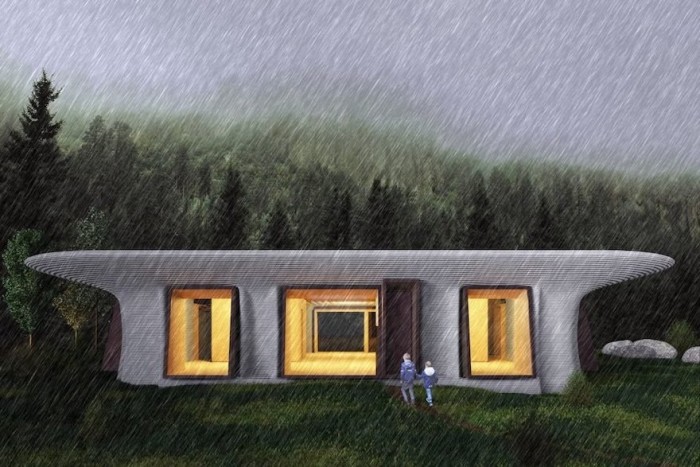 The 3D-printed 'Rain Catcher', brainchild of Tactus Design Workshop, addresses the need for sustainable, self-sufficient homes in the UK. The roof of this environmentally friendly house can collect rainwater and filter it. The designers estimate that, with average rainfall in the UK, the home would collect 95 litres of water per day for up to six residents.
The London-based design and architecture practice says that the design of this beautiful, functional prototype home is threefold. It uses site-sourced materials and pre-formed offsite components to minimise its carbon footprint; it avoids material wastage for refurbishment; and it makes the most of the natural resources and climate conditions in the UK.
In this way, it considers the points of the Architecture 2030 Challenge – to reduce fossil fuel consumption and greenhouse gas emissions of the built environment, and develop sustainable, carbon-neutral buildings. It also considers the lessons learnt from pandemic lockdowns, which made city living so much less desirable. Additionally, it considers the need to be responsive to different uses and requirements.
The home's central core is allocated for the bathroom and kitchen, while the rest of the house can be adapted to different uses over time, using timber/OSB partitions. The dividers make it easy to create up to seven rooms around a fixed core. This flexibility is important because it prevents future material waste.
The Rain Catcher has a timeless beauty with its vast bay windows, external metal cover, and simple, elegant design. The windows are all made with transparent PV panels to harness energy from the sun, and timber is used for the flooring. Recycled or natural fibre could be used on the insulation, while the roof is made of recycled plastic tiles that can reduce embodied carbon.The water filtered in the roof is stored in rainwater tanks, and heat pumps can warm the house. A separate wind turbine provides electricity.
The Rain Catcher is just a concept design at this stage, but 3D-printing is becoming increasingly relevant to the future of architecture, with more designers taking advantage of the technology.
The Rain Catcher is a perfect example of a self-sufficient structure able to harness the power of nature, allowing its inhabitants to live lightly – and responsibly – on the earth.
Read more:
Bringing wind turbines into urban spaces.
Credits: Tactus Design Workshop