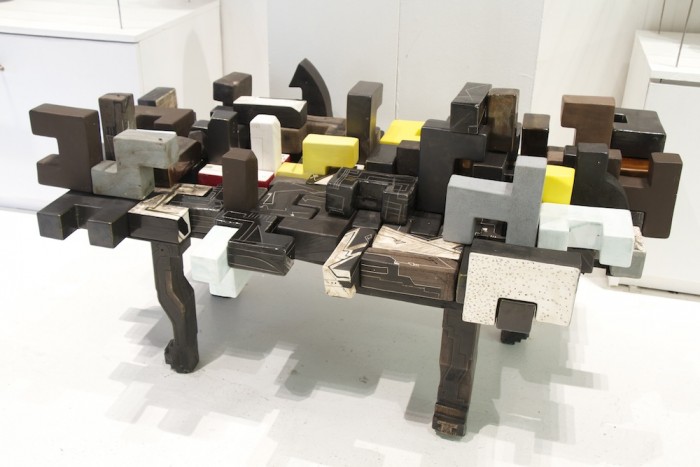 The Docks Table Black by Andile Dyalvane.
The Docks Table Black by South African ceramicist Andile Dyalvane, known for his progressive work as Imiso Ceramics, records the rapid environmental changes that are taking place in Woodstock, Cape Town, where his studio is located.
"I've been based in Woodstock since 2006 and have seen this particular area change in the hustle of everyday dealings. Those who remain: the Rainbow Tavern next door with weatherworn, crutch-armed street roamers attracted to its blearing drunken outbursts; those who sell 'desired' commodities like Nik Naks, smokes, factory-reject socks and dish cloths. Those who come and go: the daily branded delivery vehicles; the sightings of trendy, eclectic 20-somethings armed with lattes," he muses.
The table in ceramic and bronze reflects the checkered, fragmented urban fabric of the neighbourhood that is undergoing rapid gentrification, in a Tetris-like ceramic cityscape. The table is a follow-up to his earlier Docks Table, which marked a more ambitious departure from vessels and tableware to furniture.