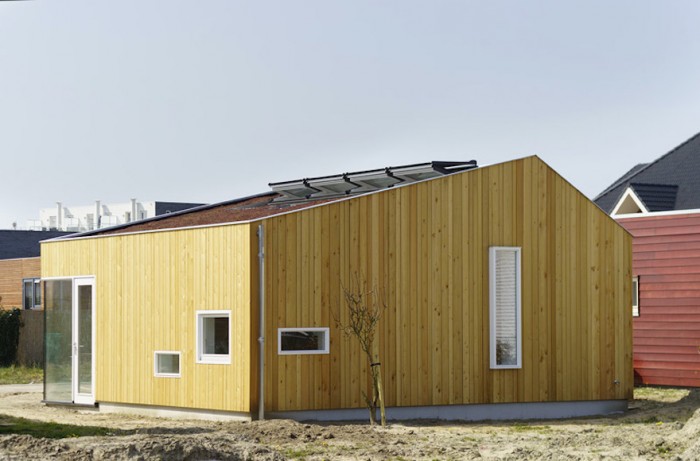 DDacha. Image by René de Wit
On show at Dutch Design Week 2015, DDacha is a bio-based structure made entirely out of timber, including its wooden fastenings and joining elements. The DDacha design team view the prefab dwelling as an organism, describing it as "a dynamic compilation of material, environment and energy."
DDacha was built using the cradle-to-cradle principle and has received a platinum level C2C product certification, which means that it scored highest in the five assessment categories: material health, material reutilisation, renewable energy and carbon management, water stewardship and social fairness.
The first prototype model to be built is the DDacha8 – a compact and customisable design, with an eight-by-eight square metre footprint, which could be used as a residence for young couples, a studio, a holiday home or a care home. The structure is easy to build as its framework is made up of large prefabricated pieces of wood that are joined together by wooden fastenings and the method of woodwork joinery. The first model was built on site within eight hours.
The roof is designed with skylights to create natural light inside, solar panels to provide energy and it is covered with moss and sedum – a green technique often employed to provide insulation and capture rainwater runoff.