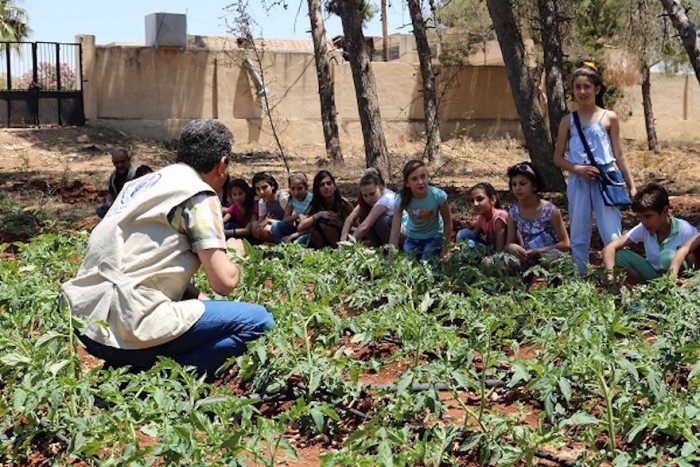 Nutrition education is key. School children and FAO staff discuss nutrition at a school garden in Hama, Syria. ©FAO/Wajdi Skaf
Access to food and agriculture has become a luxury in Syria after six years of war. To meet these challenges, edible playgrounds have sprouted up across the country. It's a healthy space where children are taught how to plant, grow and harvest fruits and vegetables like cabbages and strawberries.
The Food and Agriculture Organisation of the United Nations (FAO) together with The European Union partnered up to bring about the transformation. The schoolyards teach students about the importance of fruit and vegetable consumption as part of a balanced and healthy diet.
"The ongoing crisis in Syria is having a devastating effect on the health and nutrition of an entire generation of children," said Adam Yao, acting FAO Representative in Syria. "But through these school gardens, children are now learning about key concepts related to food and nutrition while they also have access to nutritious fruit and vegetables."
Sadly, the majority of Syrians still depend on food aid from relief organisations like the Red-Cross to meet their nutritional needs. While helpful to an extent, this has not been sustainable. Particularly, the youth are still vulnerable to food scarcity and malnutrition.
So far, the program has been introduced at primary school level. Around 300 teachers have been trained in 17 schools, including in conflict-affected Aleppo, Hama, Homs, Idleb and Rural Damascus.
"The school gardens are like an outdoor classroom, where the children learn by doing," said Yao. "Often schools are the only place where children acquire important life skills, so these school gardens are a powerful tool for not only improving children's nutrition, but also for helping them to develop and grow."
Each garden is 500 square metres and is equipped with water tanks and a drip irrigation system. They've yielded approximately 12 tonnes of fruit and vegetables so far.
This initiative is part of a broader, European Union-funded USD6.5 million programme to bolster food security in conflict-torn Syria.